<![CDATA[]]>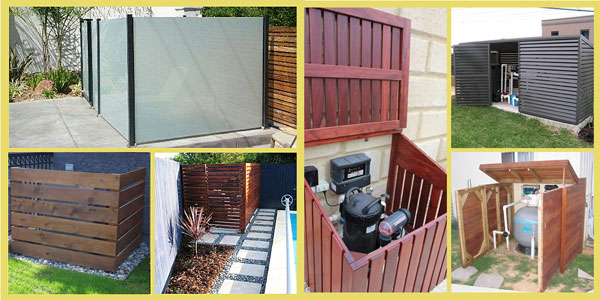 If you've ever wanted to hide the pool pump and filter, this post is for you!
Pool equipment enclosures not only hide your big ugly pool filter, but help protect it from rain and snow, or damage from high winds and tree branches.
Although it's not necessary to enclose pool equipment; it's built to be outdoors, many pool owners like having something to hide or cover the pool filter.
First of all, you do not have to enclose your pool equipment (pump, filter, heater). A lot of people camouflage it with landscaping or a small fence, so that is not visible. Pool equipment is designed to be outdoors. As long it is taken care of and properly winterized at time of pool closing, it need not be covered.
Some people do enclose the equipment, for these main benefits:
Protection from the elements
To not hear the equipment
To not see the equipment
Added storage room
There are 3 types of pool equipment enclosures, walls, boxes and houses.
Walls to Hide Pool Equipment
The simplest way to hide your pool pump and filter is to put up a small wall or screen to block the view, and the noise from the pump.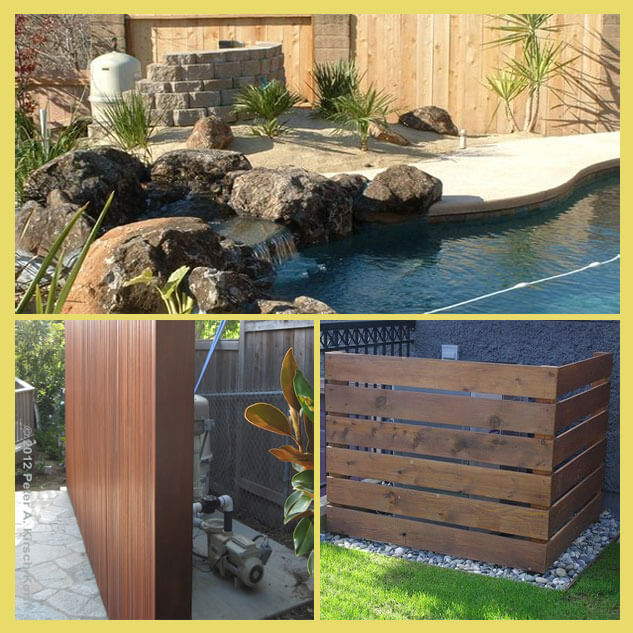 If you are handy with wood, you can saw-up your own pool filter screen to hide the pool pump, or you can buy vinyl privacy walls at most home stores and garden centers. As a third option, hire a carpenter to take care of it all for you!
Screens to Hide Pool Equipment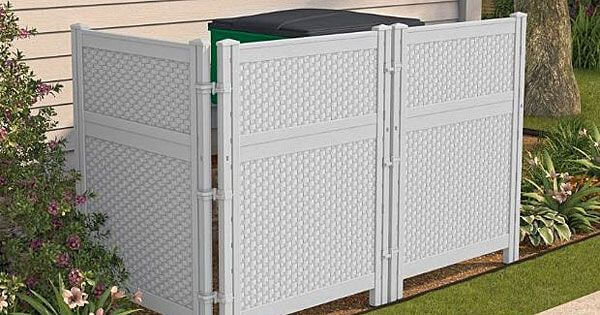 Most privacy screens that you can purchase from a home improvement store are made of vinyl resin. Using pre-fab vinyl fence panels has many advantages:
Inexpensive and easy to install. Most privacy screens have connected stake-like legs on the bottom that secure the screen panels into the ground for stability. Sectional and modular panels are connected to each other with steel bolts, and can be angled into many positions.
Durable in all types of weather. Vinyl doesn't fade in the sun and it won't rust in the rain, snow and ice, which means these enclosures will look new for a long time. When the panels get dirty, spraying them with a garden hose usually is enough to get them clean.
Variety – There are many, many different types and styles of vinyl screen panels readily available almost everywhere. You can find traditional picket-fence, or prairie-style panels, or go for colors and textures molded to look like real wood panels or bamboo sheets.
The other option to having an enclosed structure to hide pool equipment is making one yourself. Depending on your abilities, time and resources, this can be a very fun and creative way to give your backyard, pool area, patio and home a unique look and character.
Consider form, function and materials used; the sky is truly the limit when you choose to create your own pool filter enclosure.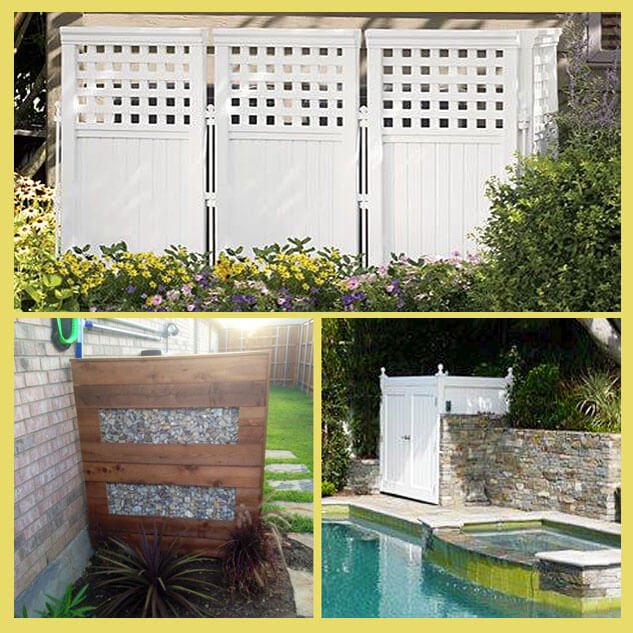 Glass, steel, wood, concrete or vinyl – you have many materials to choose from! And how many sides? 1, 2, 3 or 4 sided pool equipment screens are all possible.
Adding a roof to a pool equipment enclosure adds another level of complexity, and may not be as attractive as a 2 or 3 sided tall wall. Faster to construct, and no head-room issues for tall guys like me.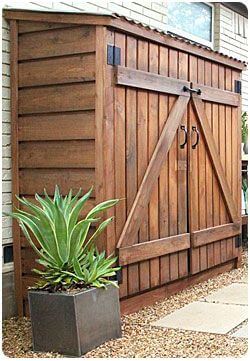 Wood – Whether it's natural wood, stained, painted, rescued from a crumbling barn or repurposed from another project, wood evokes an emotional response, and no matter the construction style, wood almost always fits in with any outdoor surrounding.
Concrete – Constructing concrete walls takes some real talent and special tools, but if you know how to create a concrete enclosure you will certainly have special, unique-looking and highly durable enclosure that can also provide winter protection to your pool equipment. If you choose concrete, remember to use sealer, since it is porous and allows water to penetrate. You can also paint a cement wall to any color or with any design, as well as using stained or colored concrete.
Stone – This material has incredible variety, from small and round pebbles to long, flat blocks like flag stone, along with different colors, shapes and textures. Like concrete, creating stone walls or enclosures takes a rather advanced skill set, but that work reaps an incredible reward of a natural, classic and ageless look.
Glass – For ultra-modern homes, glass panels are the ideal material for pool-equipment-hiding enclosures. Depending on your budget, you could theoretically surround your entire pool with privacy glass, creating an open-air feel or more private setting with a protective barrier around your pool.
Vinyl – Much like the ready-to-assemble vinyl panels you can buy at the big home improvement stores, vinyl is available in board-like planks which gives you the ability to create your own type of enclosure. Many places also offer vinyl boards made from recycled materials, and with life-like wood grain color and texture.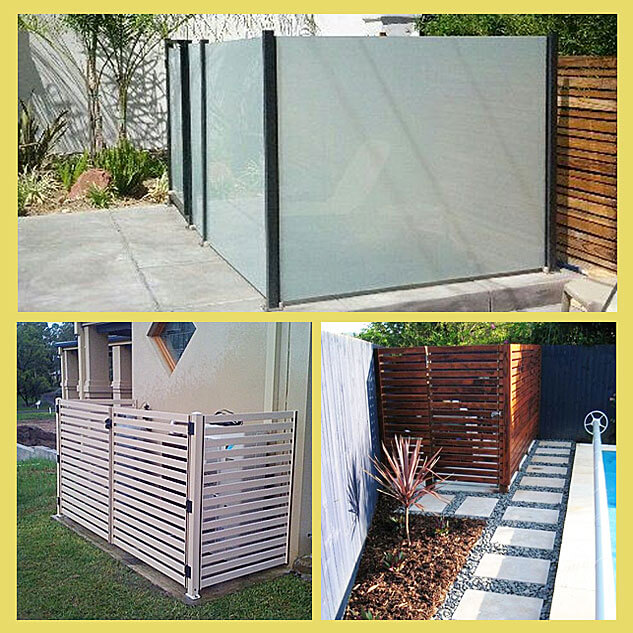 Pool Equipment Boxes
A box has more protection for your pool equipment than a walled enclosure. These fine boxes were made by poolblanketboxes.com.au – and are quite popular down under!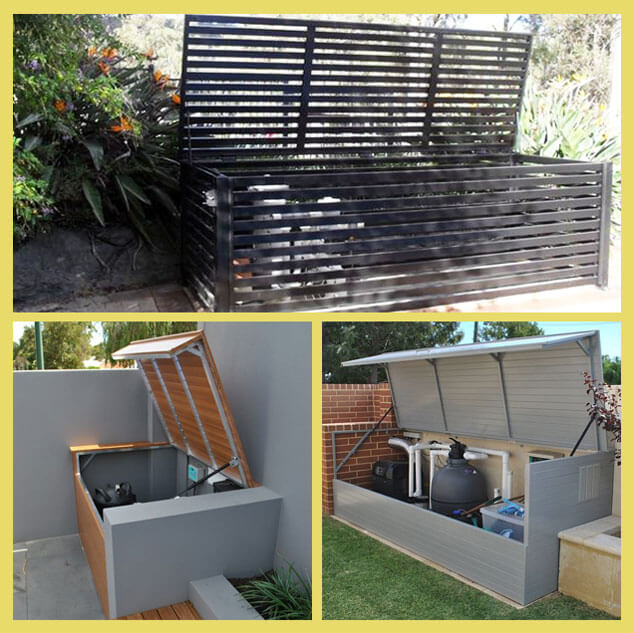 Boxes usually have hinged lids, with a piston, prop rod or hook of some sort, to prevent a knock on the head. Slats provide good ventilation for the pump.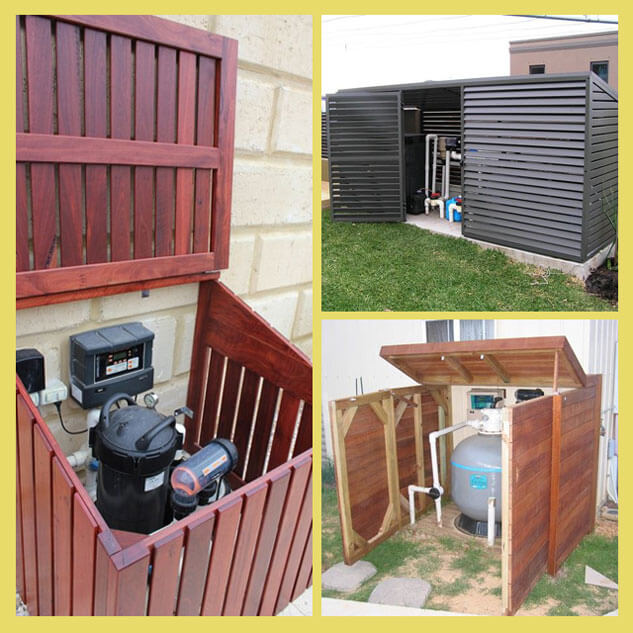 Pool Equipment Sheds
When you want to combine a seating area and storage space with your pool equipment enclosure, start to think a little bigger, and build a pool house or garden shed around your pool equipment.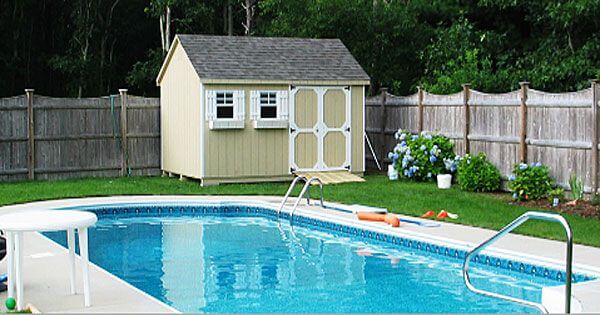 There's one more option for the pool equipment enclosure possibilities, and that is building and furnishing a shed or full-on pool house. Ideally, this type of enclosure espouses both form and function, hiding the equipment eyesore in front of you while delivering useful space for storing pool tools, supplies and pool chemicals. Of course, these types of pool equipment enclosures will take either a hefty budget or excellent construction skills. Here are some ideas:
Pool box – Hiding unsightly pool pumps and filters is the main purpose of a pool equipment box, but it also protects pipes and pumps from rain, snow, sun and downed tree branches. If your pump and filter sits up against a wall, you only have to build 3 sides to your enclosure, along with a hinged lid, or front access door panels. Give yourself plenty of room to work on the equipment, don't box it in too tightly, and no matter what type of pool equipment enclosure you use, be sure to provide adequate ventilation for the pump motor.
Pool shed – Normally, sheds are used to house garden tools, lawn mowers and other yard maintenance tools and items, but there's nothing saying you can't house your pool equipment in a shed, too. Whether you build one from blue prints or get a DIY kit from the hardware store, using a shed to hide your ugly pool filter and pump is a great idea. Most likely you'll be able to store other items in the shed, too, including yard tools, pool toys, pool floats and even some smaller pieces of pool furniture.
Pool house – Wouldn't we all love to have a private, enclosed structure where swimmers can towel off and change clothes without tracking water, chlorine and grass blades through the house. If you have the means, a pool house is the way to go, and depending on your yard space or budget, you can make your pool house so much more than just a pool. Just make sure you have extra room for easy service access to the pool filter and pump, without reaching, twisting or squatting.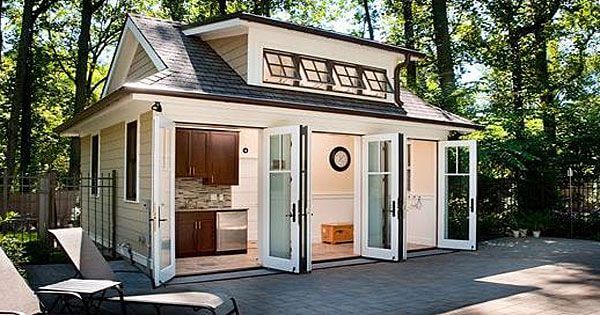 Pool Equipment Enclosure Design
Ventilation is very important, to help reduce moisture problems.
Size is also important. Allow room to service equipment easily, make repairs, and allow for future expansion, in addition to room for pool supply, furniture and maintenance equipment storage.
A separate space for chemicals is recommended, to reduce oxidation to metal equipment. Chlorine chemicals, even in tightly sealed buckets, will rust metal on pumps, filters and heaters.
Heaters or heat pumps cannot be enclosed. Pool heaters need proper air supply and exhaust venting. If enclosed around the sides, be sure the top is open to clear sky, or follow manufacturer instructions for proper venting.
Depending on your budget and the effort you want to expend, the choices of ways to hide your pool equipment is as endless as your imagination, creativity and skill set. From basic and inexpensive, to lavish and a budget on par with a small nation's GDP, research and discover what works for you and your yard. Just be sure to plant, build or install something that is compatible with your regional climate as well as your style and taste.
I hope you enjoyed this look at pool equipment enclosures. From a simple 2-Wall wood enclosure, to custom pool cabanas, there's a lot of ways to hide your pool pump!


Sheryl Sollis
InTheSwim Staff Blogger
(2 votes, average: 5.00 out of 5)

Loading…