33 Backyard Inground Pool Ideas For All Budgets
Whether you're building a pool or upgrading the pool you have now, there are plenty of inground pool ideas that fit all types of budgets. Simple changes you can make that add visual appeal and functionality to your pool. Whether you want to create a themed look, install a few water features, or cozy up the space with furniture, there are plenty of options for customizing your swimming pool.
And in this post we share 33 backyard inground pool ideas for all budgets. So if you need some inspiration for your inground pool design, and want to decorate your space, keep reading.
33 Backyard Inground Pool Ideas For All Budgets
1.) Add a tanning ledge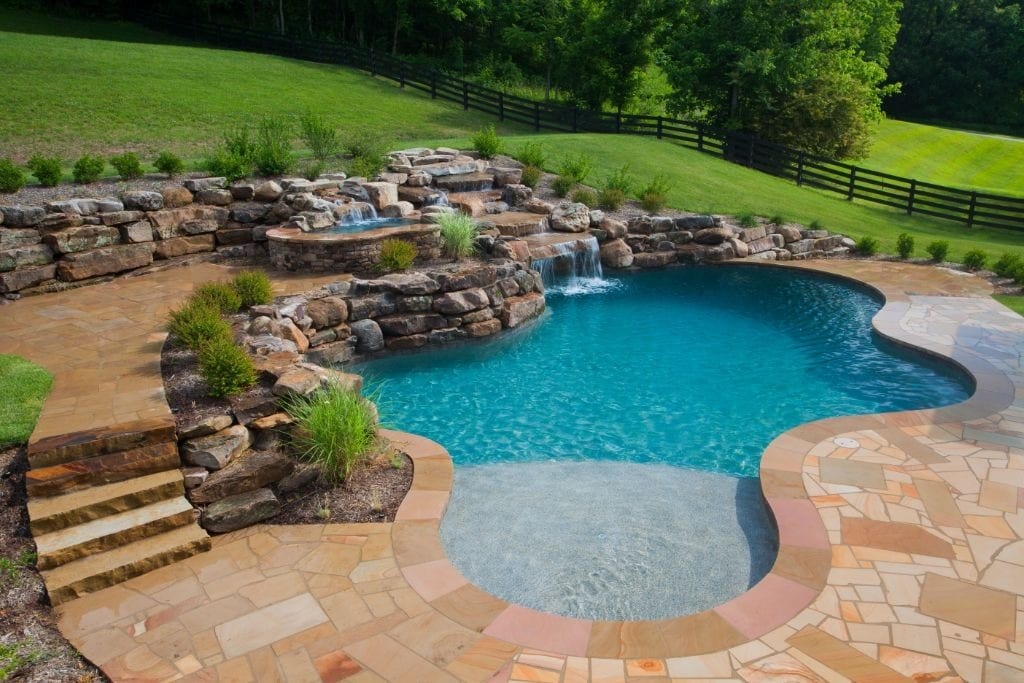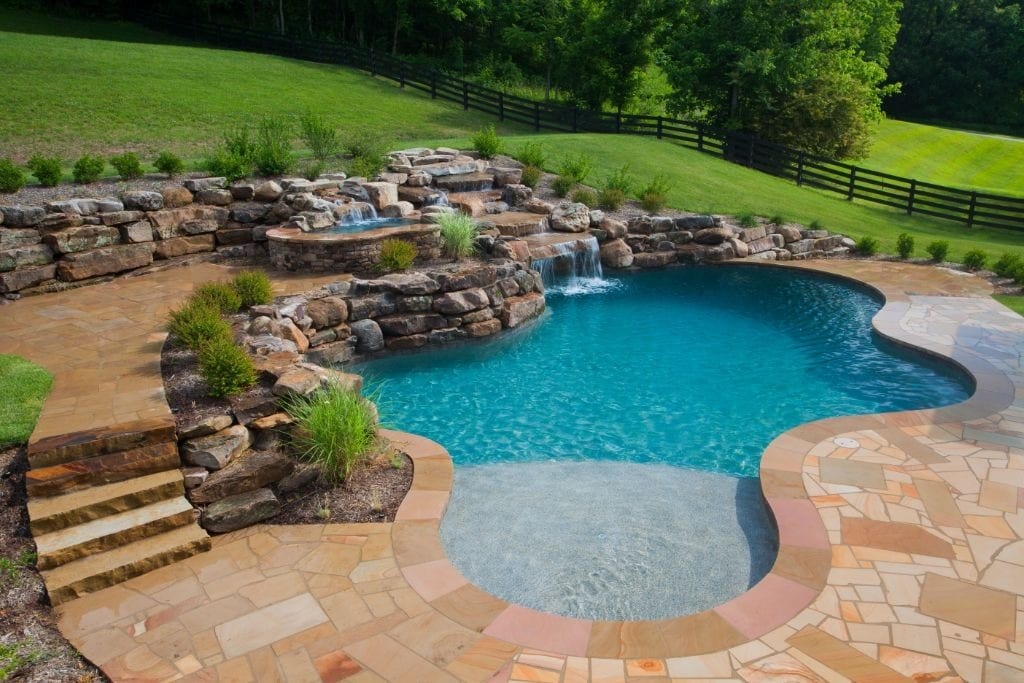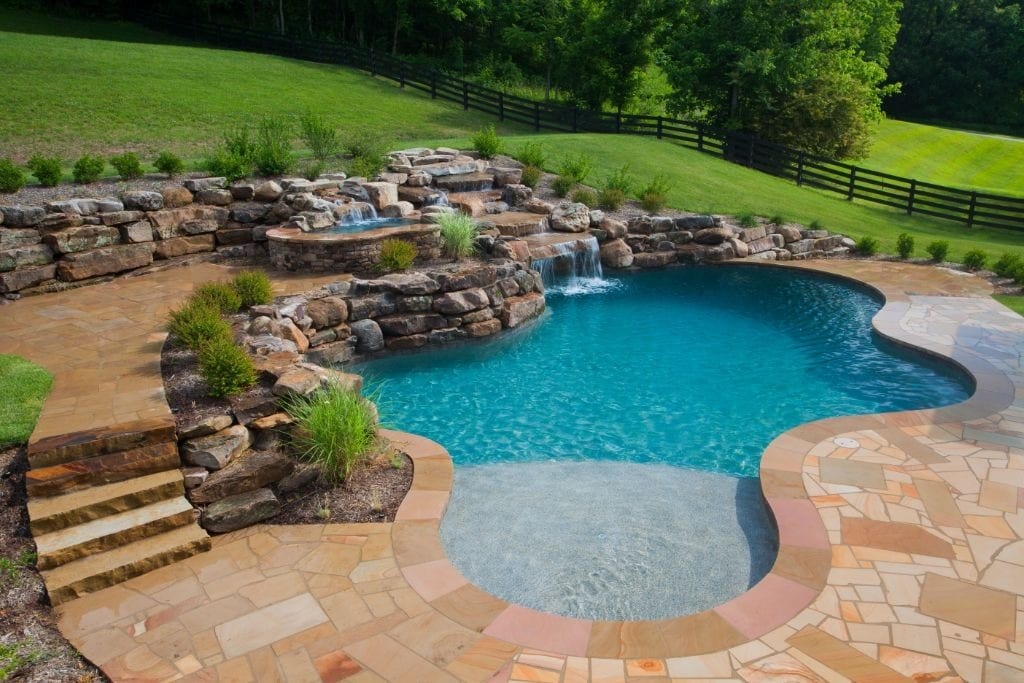 Image via Swim World Pools
Tanning ledges (also known as baja shelfs) serve as a great spot for setting up some pool furniture, sipping an ice cold drink, and working on your tan. They also function as an entrance and exit to your pool. Typically, tanning ledges are a built-in pool feature.
2.) Make a dark bottom pool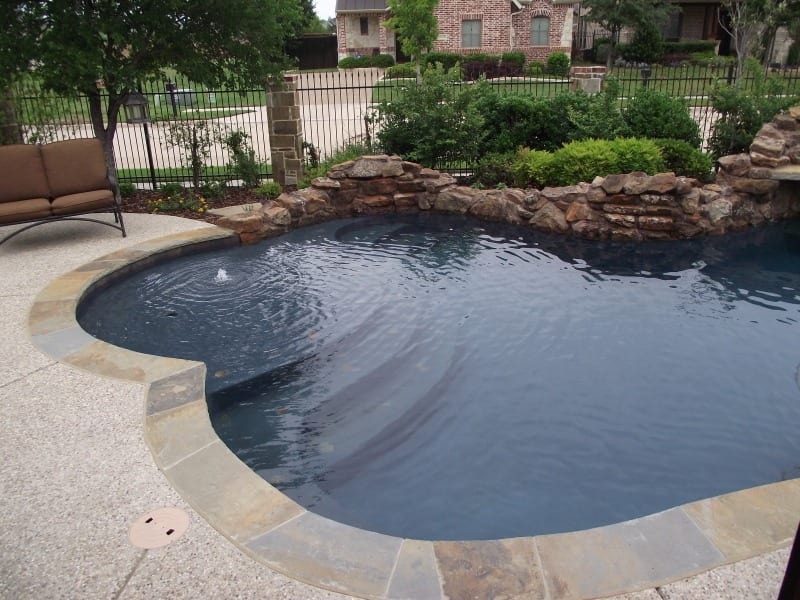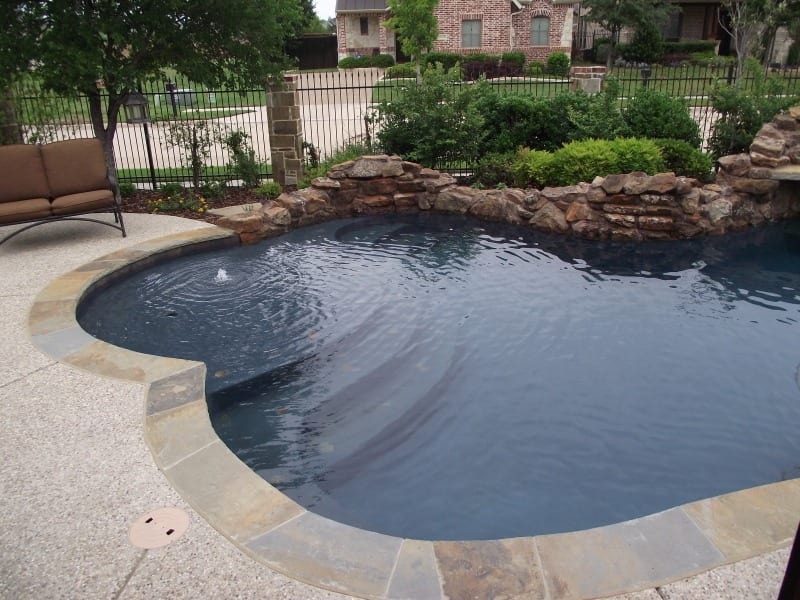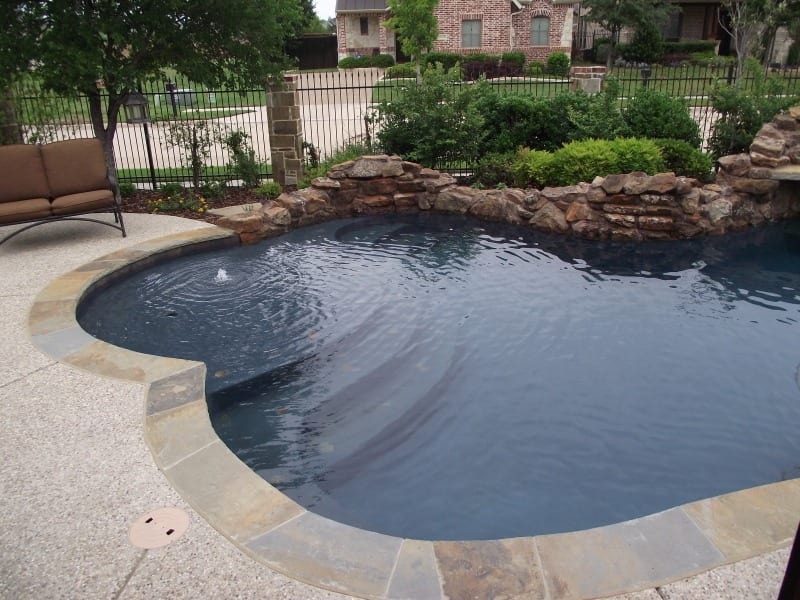 Image via Foley Pools
No matter which type of swimming pool you choose, you'll have an option for a dark colored pool. The dark bottom creates a cool effect that "darkens" the water, and gives the pool a greater sense of depth.
For concrete pools, it's a matter of choosing a dark colored pool finish (like dark blue, black). If you have a vinyl pool, you can easily give your pool a new look by installing a dark colored pool vinyl. And for fiberglass pools, the easiest option is choosing a dark colored pool shell before installation.
3.) Upgrade to color changing LED pool lights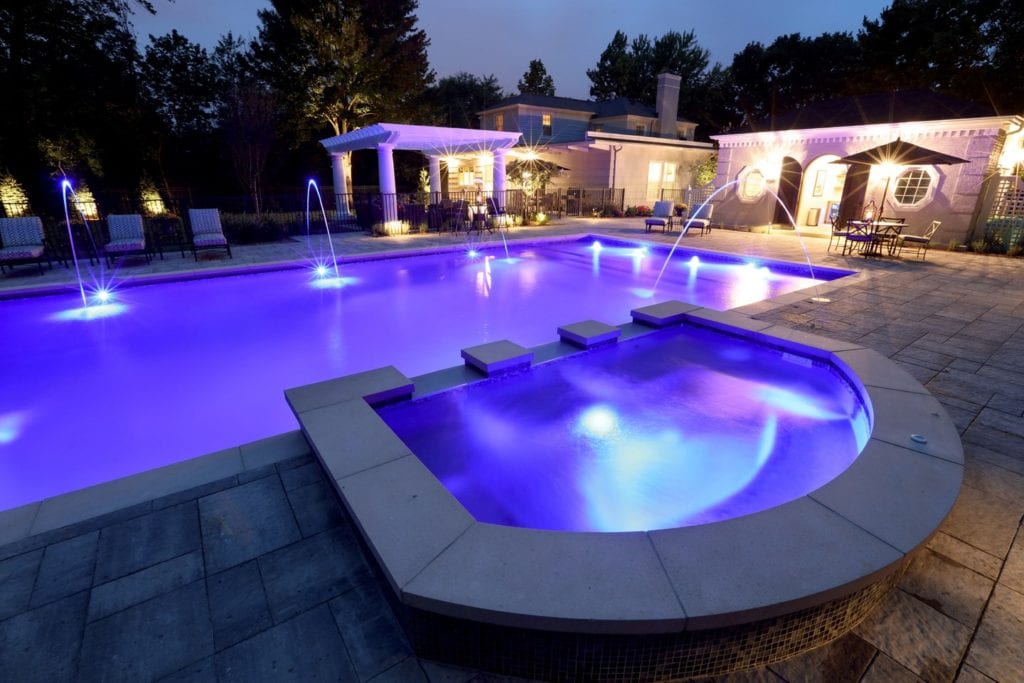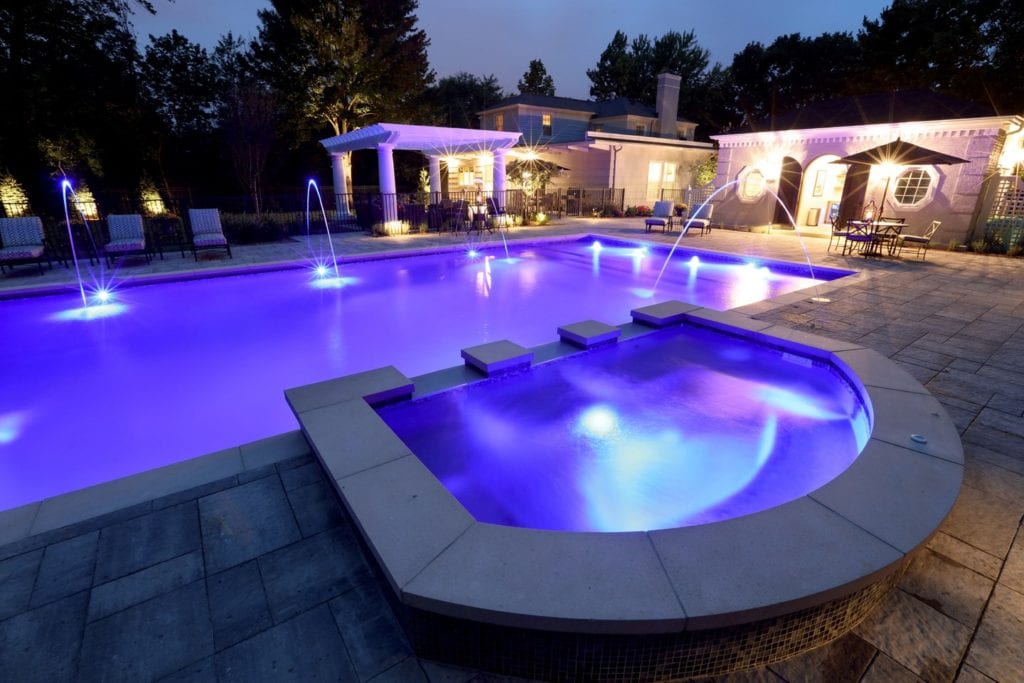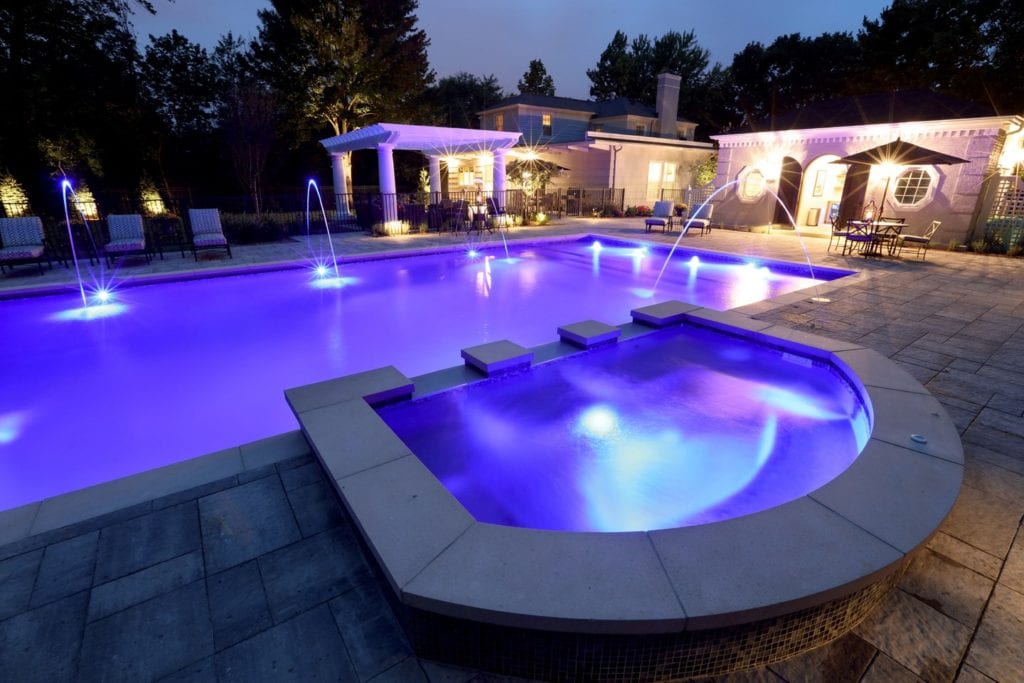 Image via Signature Outdoor Concepts
Color changing LED pool lights look great just about anywhere, and offer you a full range of lighting customization. Plus, they're way cheaper (at least 50% cheaper) to run than traditional halogen bulb pool lights. And with LED pool lights, you can easily change the color of your water with the press of a button — perfect for mood lighting at parties and get togethers.
4.) Upgrade your pool landscaping
It starts with something as simple as clearing up some space, and adding a few potted planted around the pool deck. From there, you can add more permanent fixtures, like dirt patches and garden areas for planting trees, shrubs, and flowers.
For more pool landscaping ideas, check out this post: 11 Simple and Cheap Pool Landscaping Ideas
5.) Add or create an underwater mural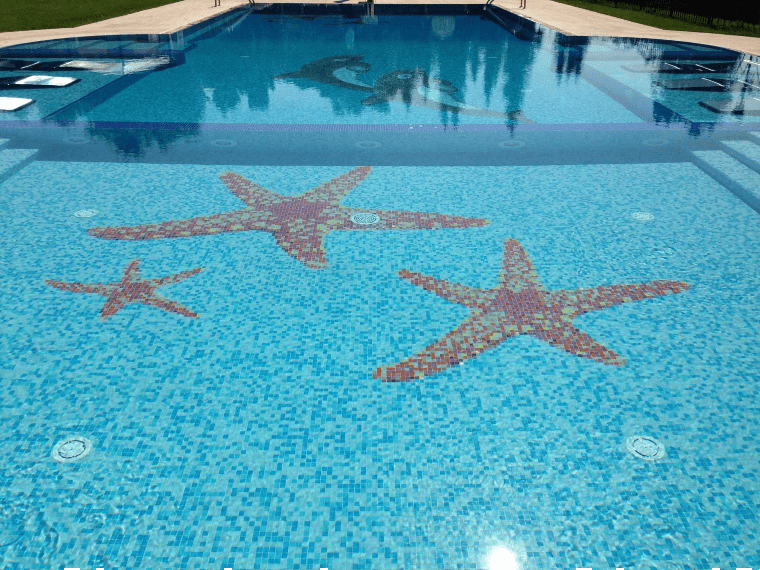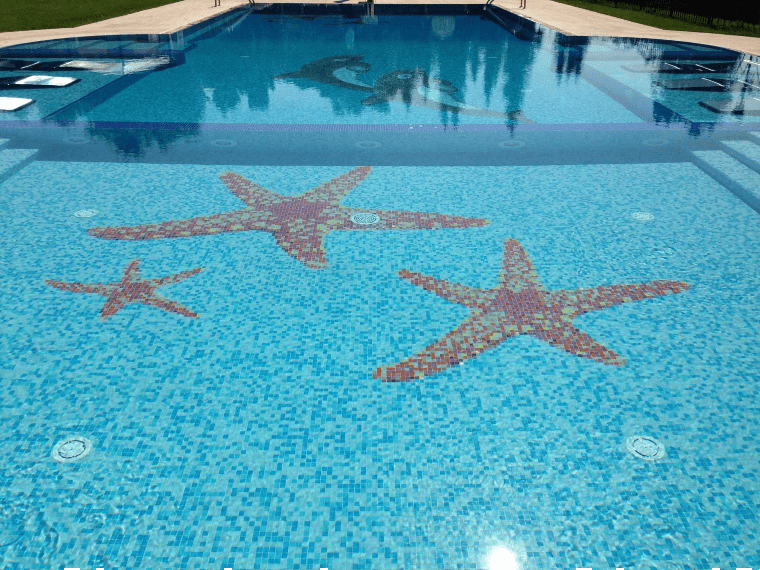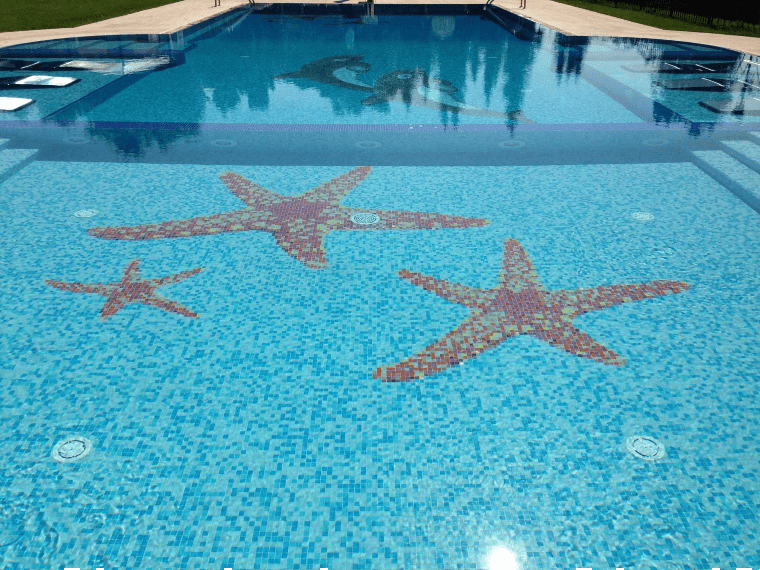 Image via MosaicLabs
If you're looking for a simple way to add some flare to swimming pool, try installing an underwater mural on the floor. It's a clean splash of art, that adds a tasteful balance of color and intrigue to your pool/
Underwater murals come in a few different forms, which include tile mosaics, and aqua decals (which work a lot like stickers).
6.) Install a rock waterfall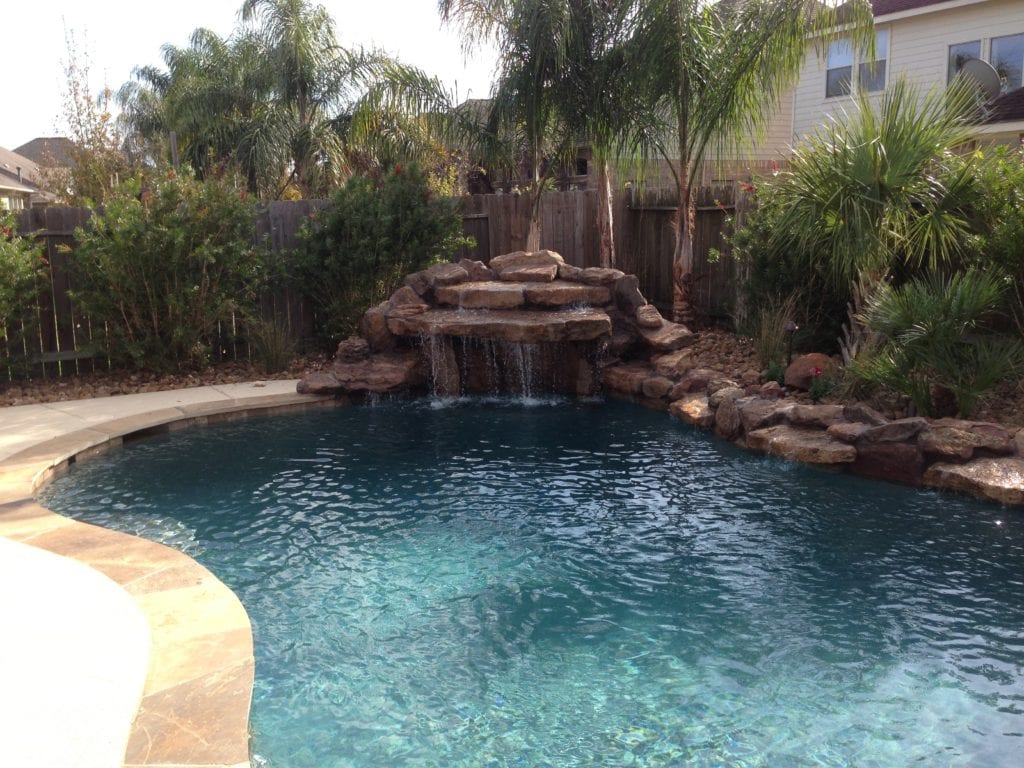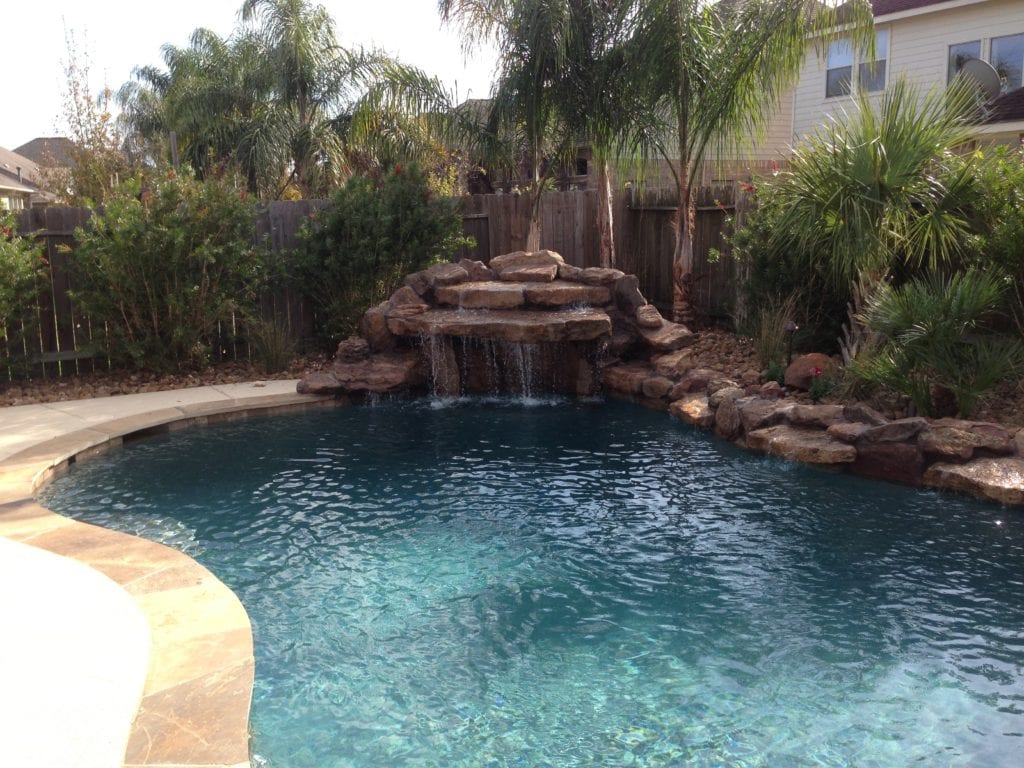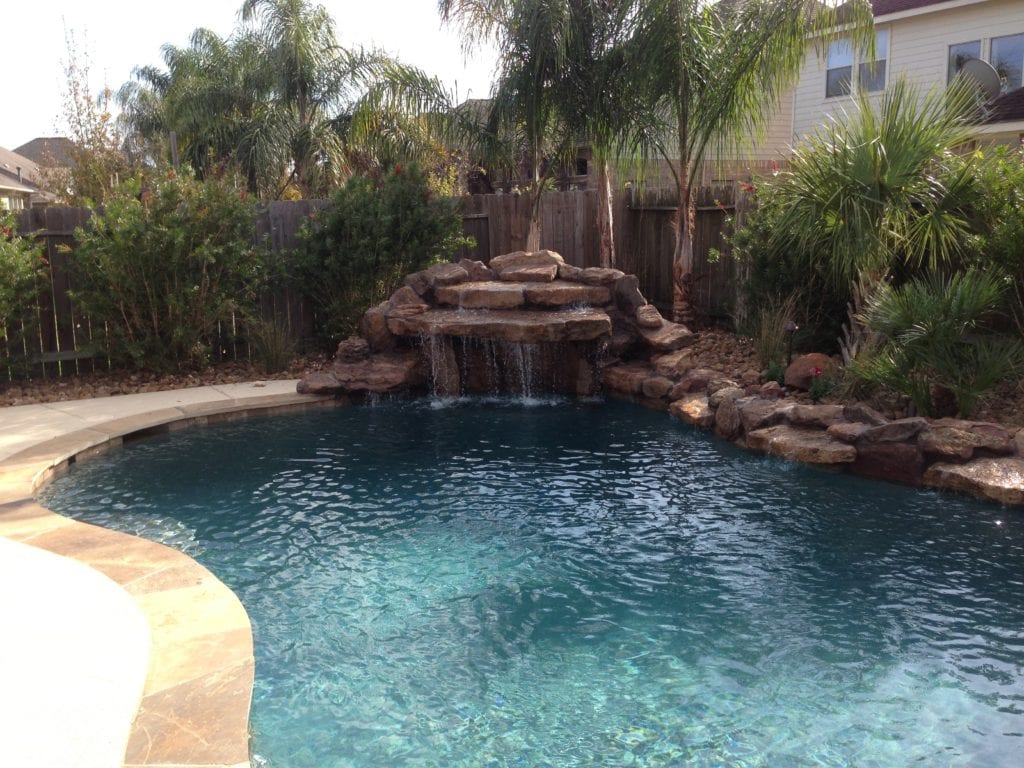 Image via McKinney Custom Pools
Rock waterfalls are great for matching the theme of a space, or creating a whole new look altogether. They're an elegant and natural looking water feature that easily blends into your current pool landscaping.
You can use it to connect different parts of your yard together, or as a stand alone feature like in the image above.
7.) Add a cascading waterfall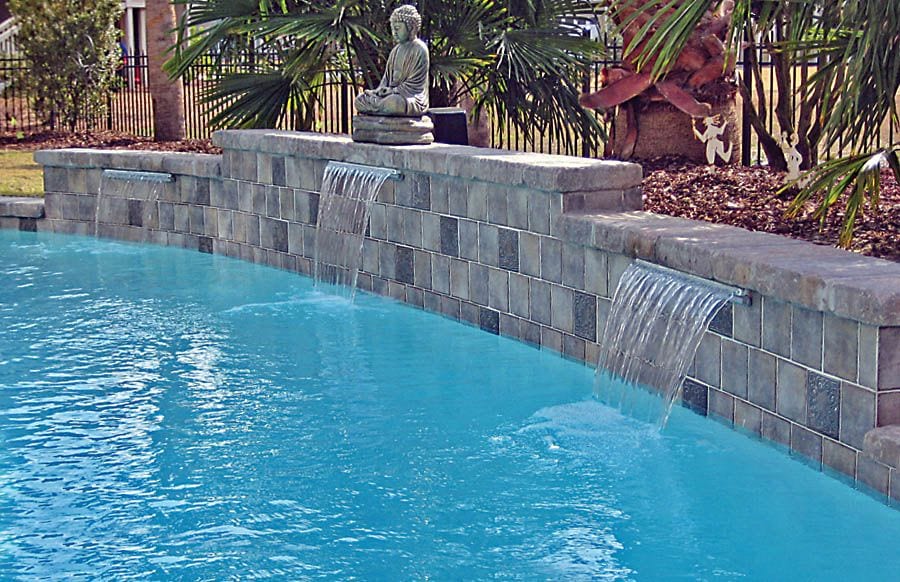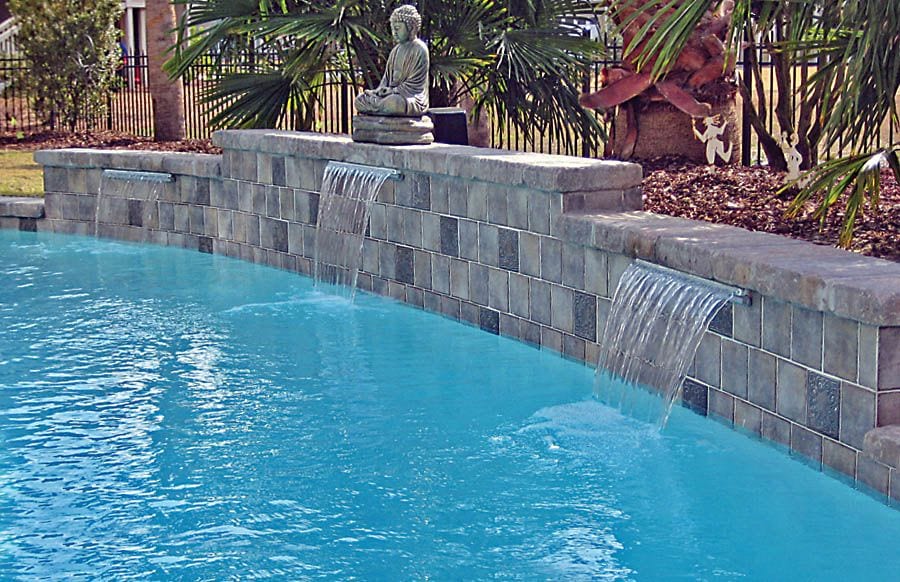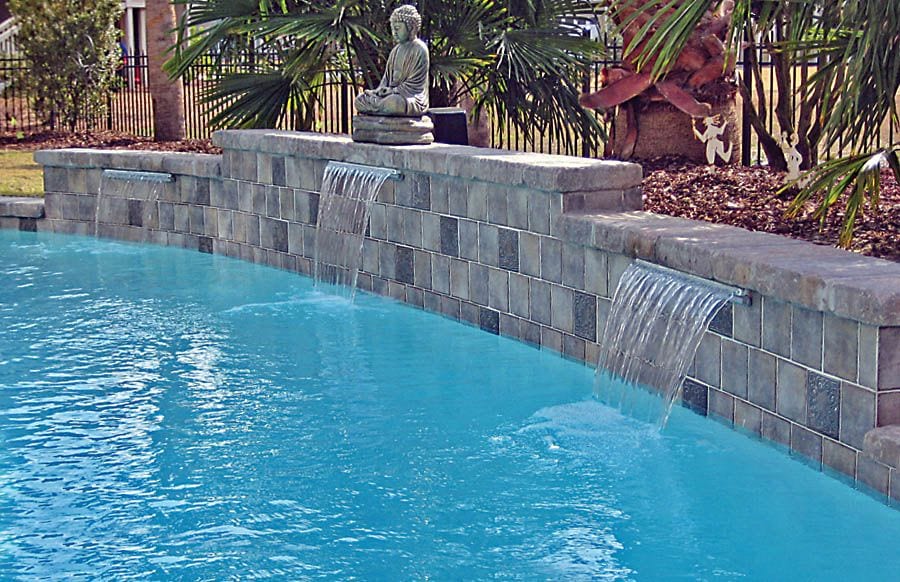 Image via Blue Haven Pools
If you like the kind of ambience that a rock waterfall adds to your pool, but want something a little more subtle, go for a cascading waterfall. These waterfalls can be installed around the sides of your swimming pool, and look especially good coming out of retaining walls.
The best time to add waterfalls to your pool is before installation.
8.) Add some ambient lighting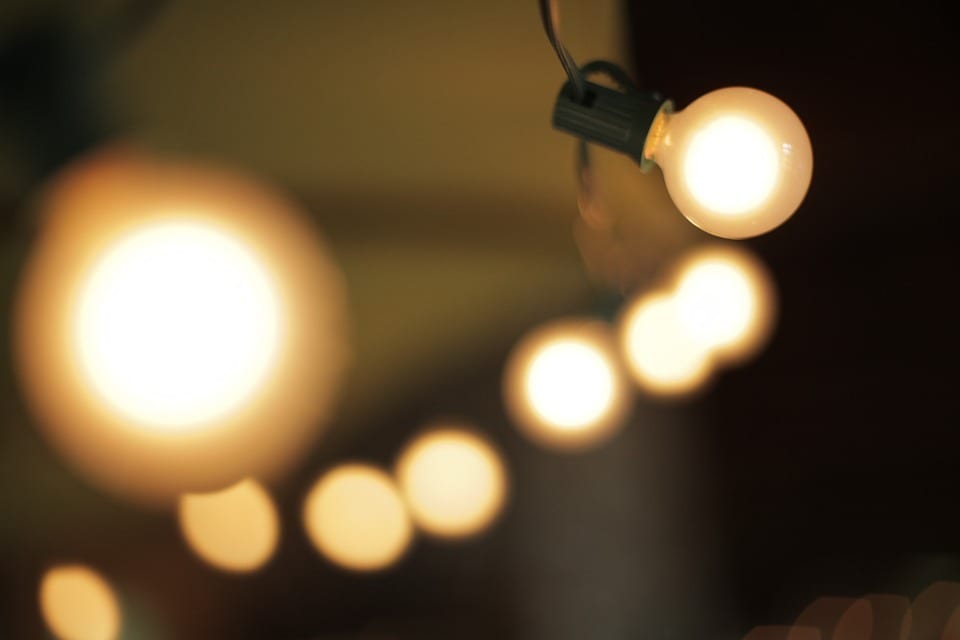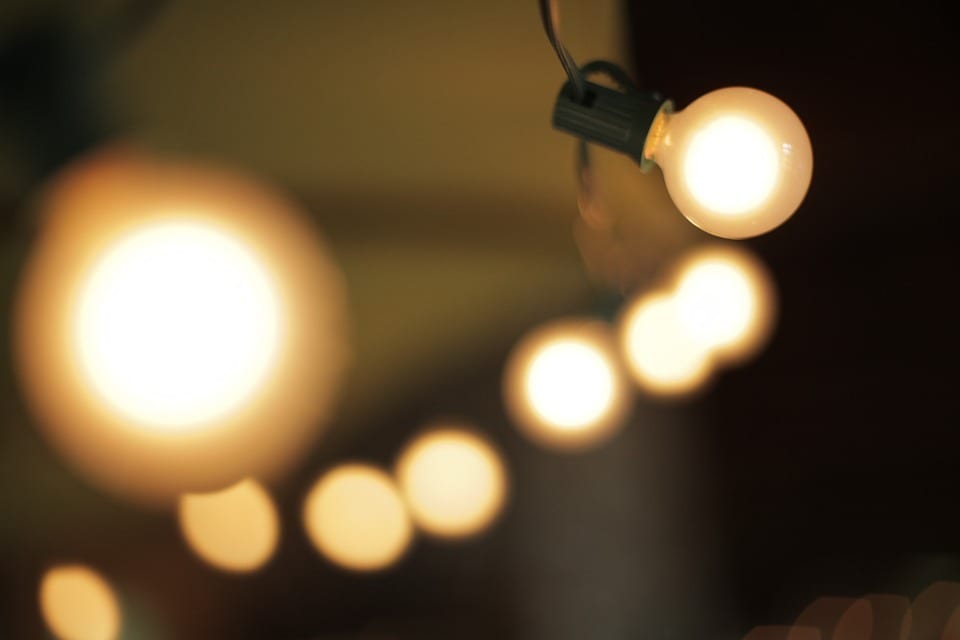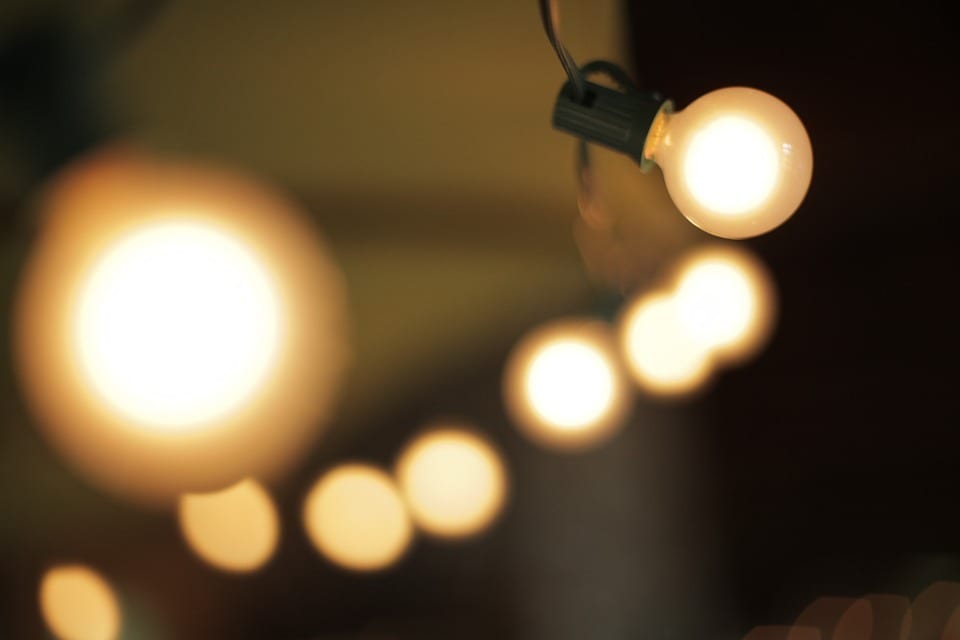 One of the easiest ways to add some instant mood lighting to your pool is with LED market lights. Simply hang them up (away from water), and plug them in. They look great along the walls of your pool enclosure, or strung above the patio furniture.
NOTE: To avoid the risk of electrical shock, do not hang lights over the pool water.
9.) Build a pool enclosure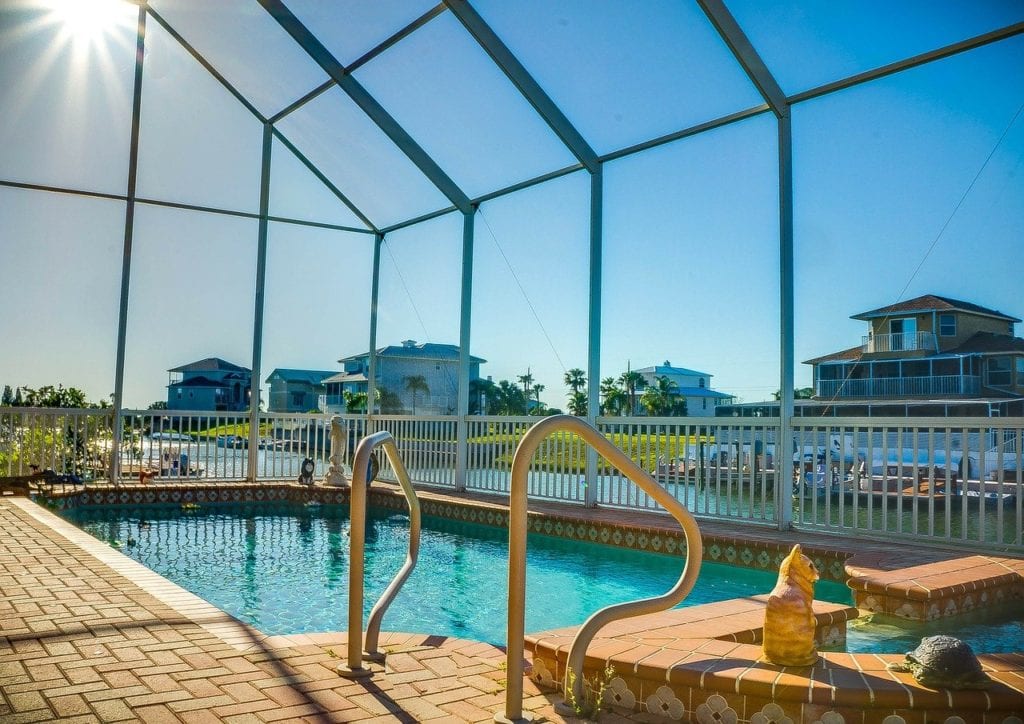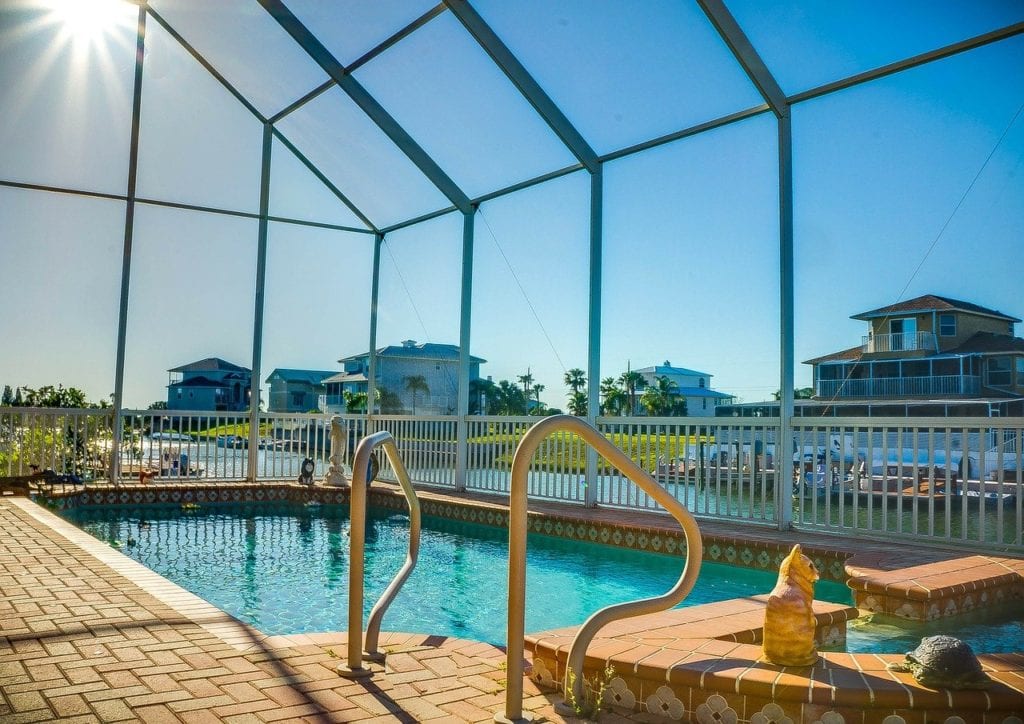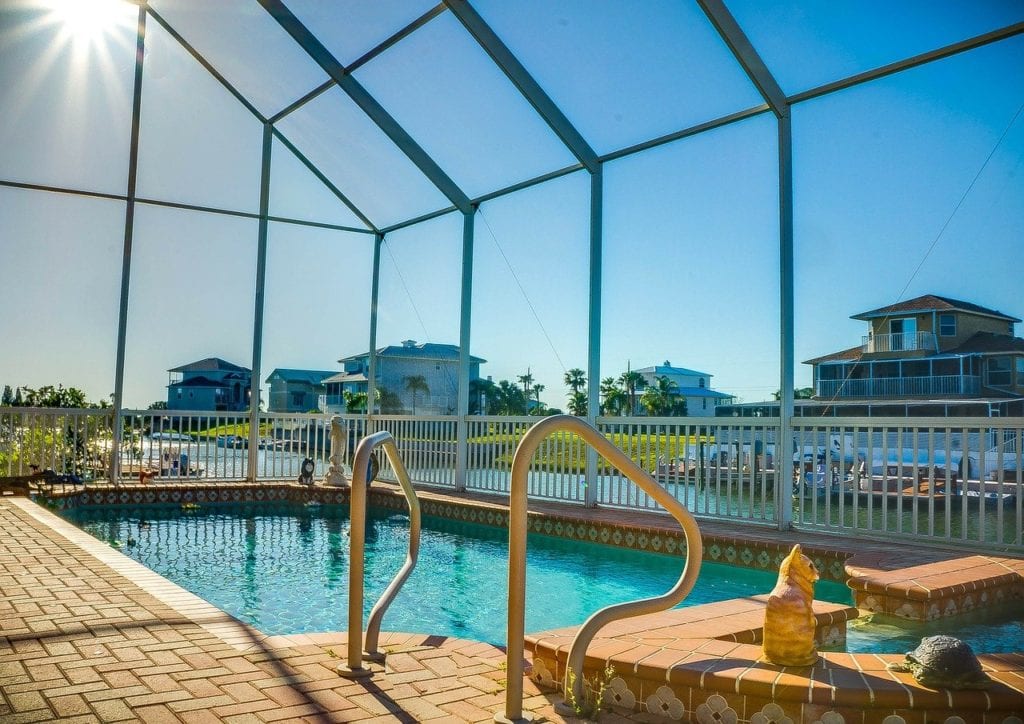 Pool enclosures help block out leaves, bugs, and any other critters you might not want getting into your pool. And as a barrier, they also serve to make your space feel more private and secure.
10.) Add custom waterline tile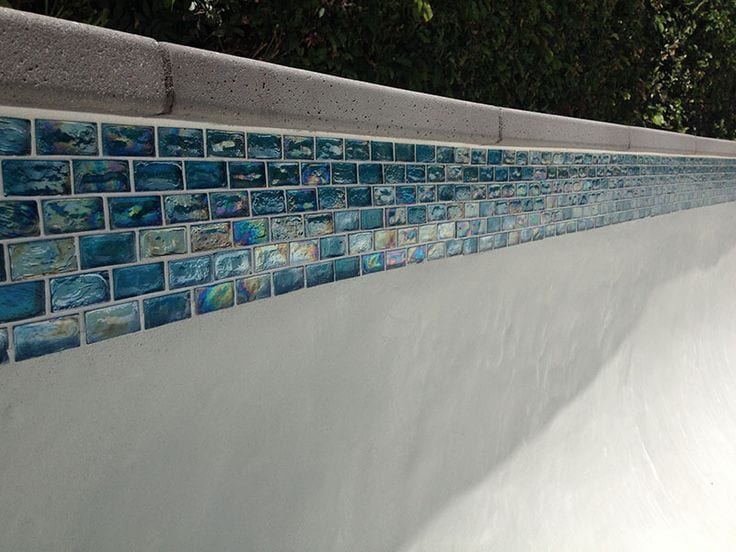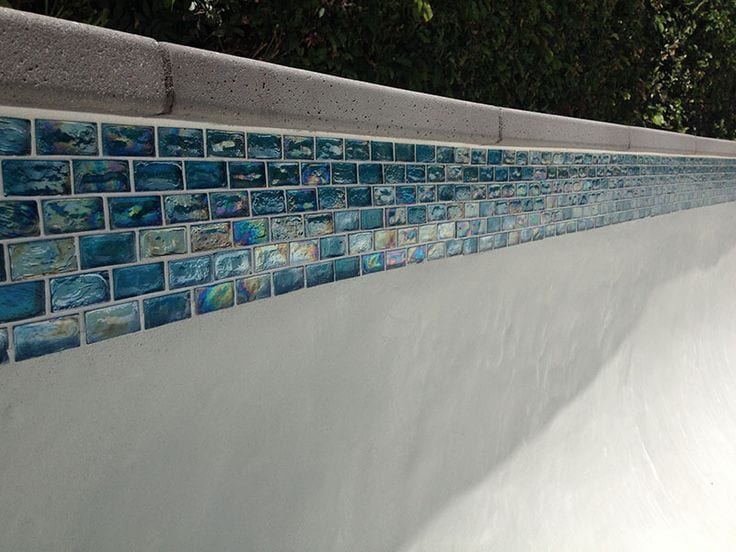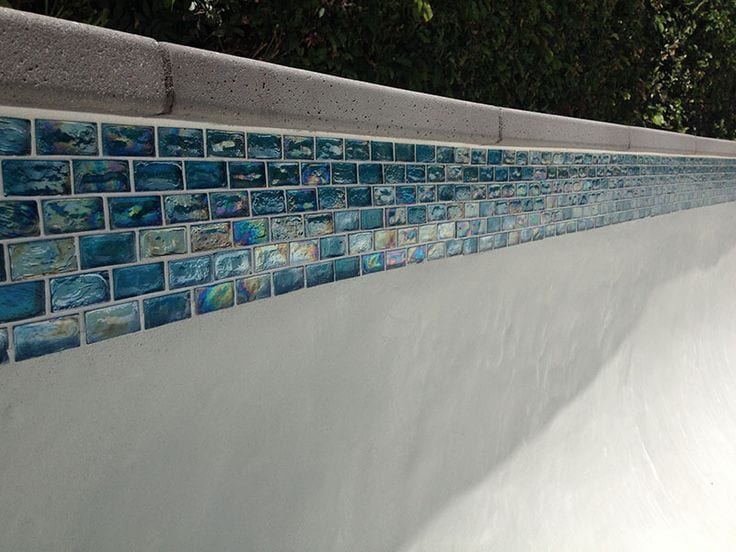 Image via Alan Smith Pools
Want to add an eye catching splash of color to your swimming pool? Install some waterline tile along the top edge of the pool walls. You can choose from a wide variety of colors, patterns, and materials to match a theme or style.
11.) Poolside fire pit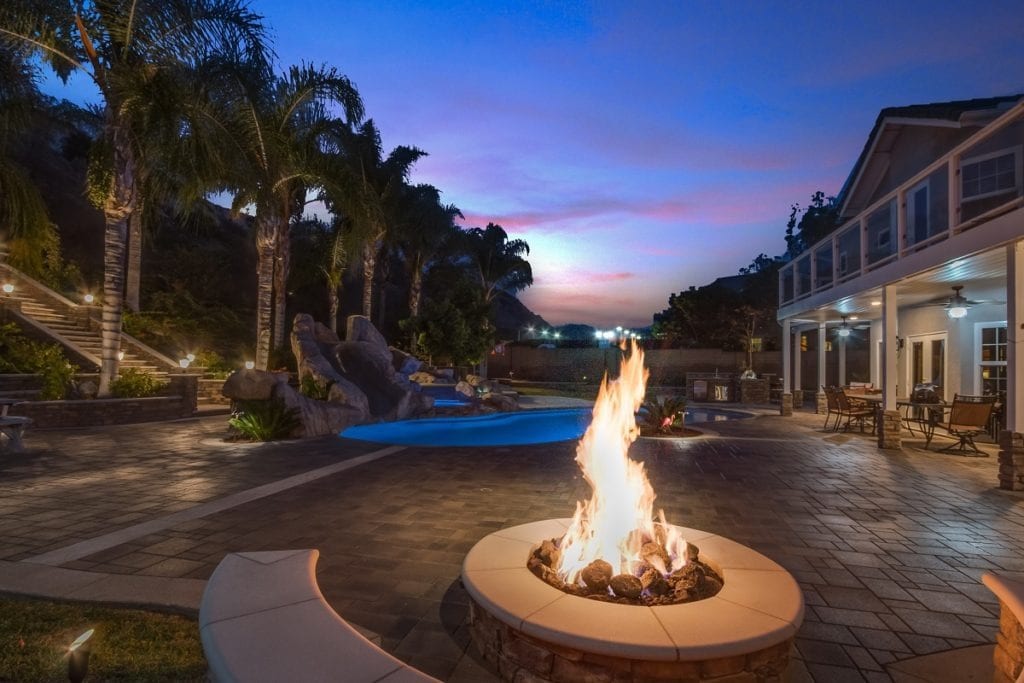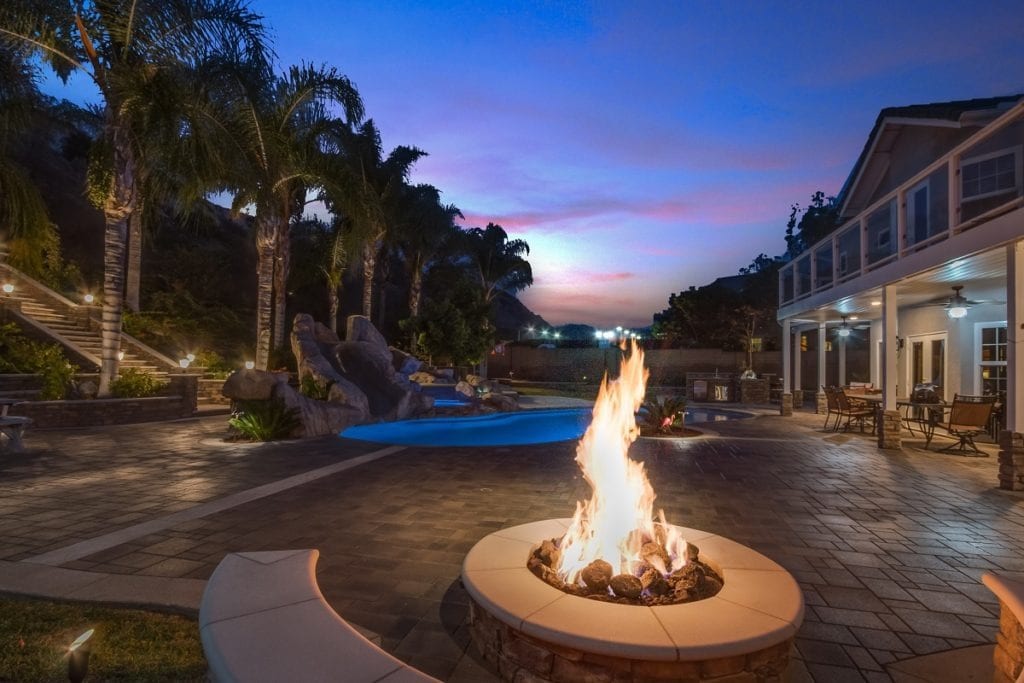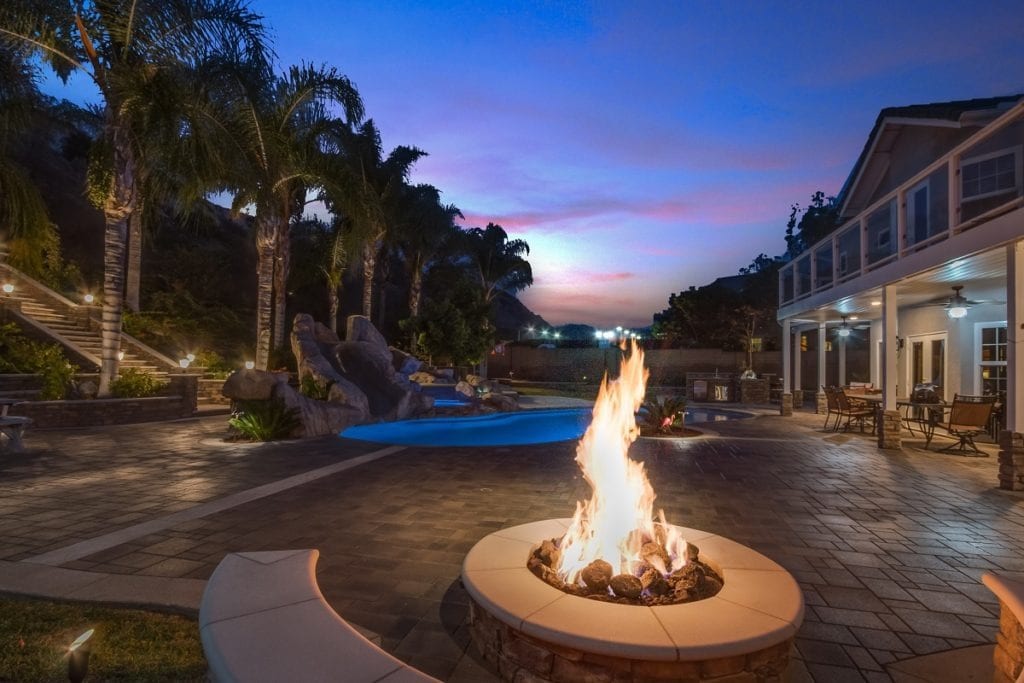 Image via Alan Smith Pools
Warm up on a cold autumn night around your poolside fire pit.  Fire fixtures serve as bold accent pieces that add a natural source of lighting to your pool deck. Lighting that looks great and keeps you cozy.
You may opt to build permanent stone fire pit, or a purchase a stainless steel firebowl that can be moved around.
12.) Create an infinity pool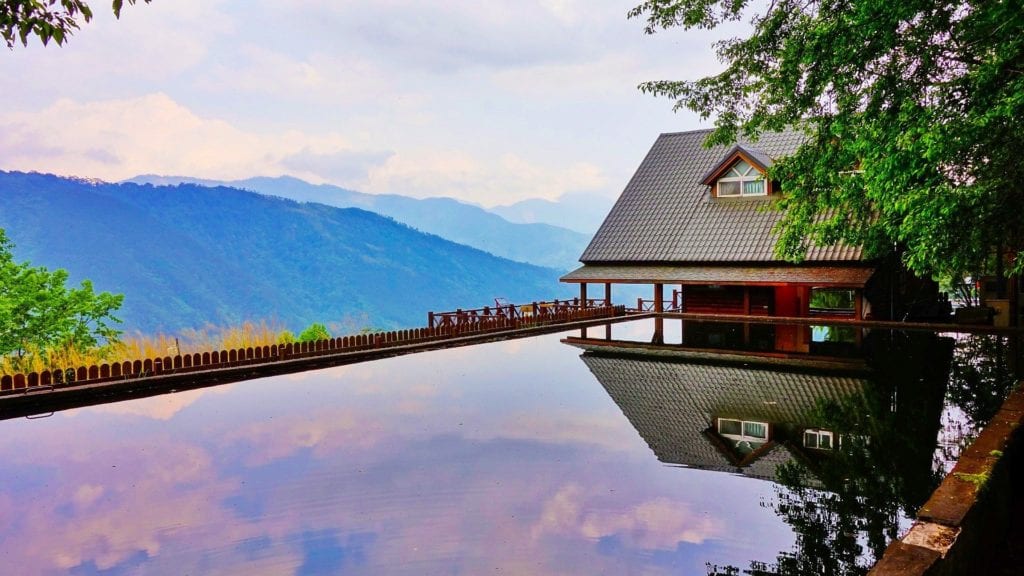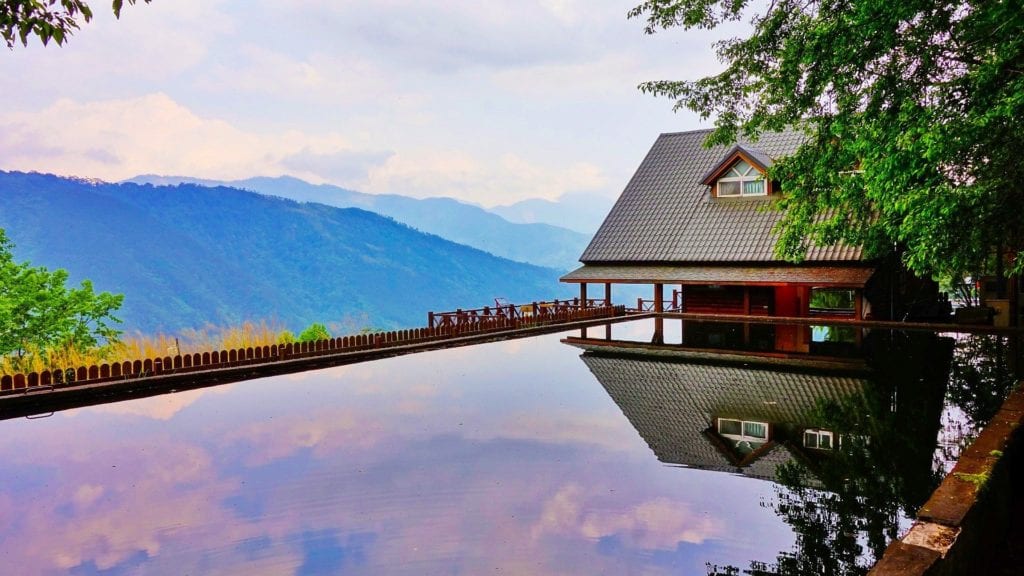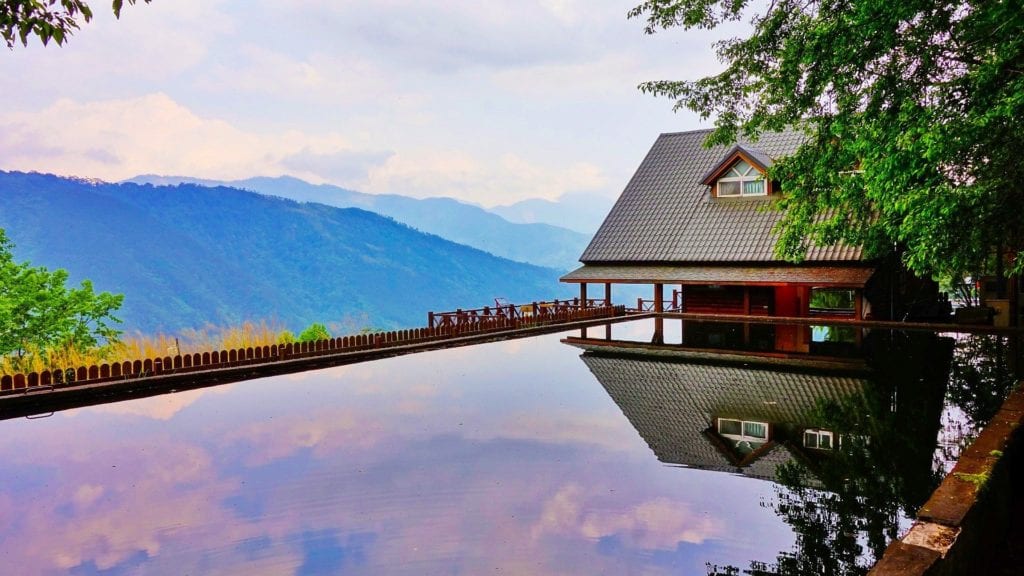 The main feature of an infinity pool is the "vanishing edge". The illusion of a boundless edge is what gives the water that signature, infinite look. If you have the space and budget for it, and infinity pool can be a wonderful addition to your backyard.
Infinity pools are usually planned out prior to building, and typically cost more to build than regular inground pools.
13.) Add bubblers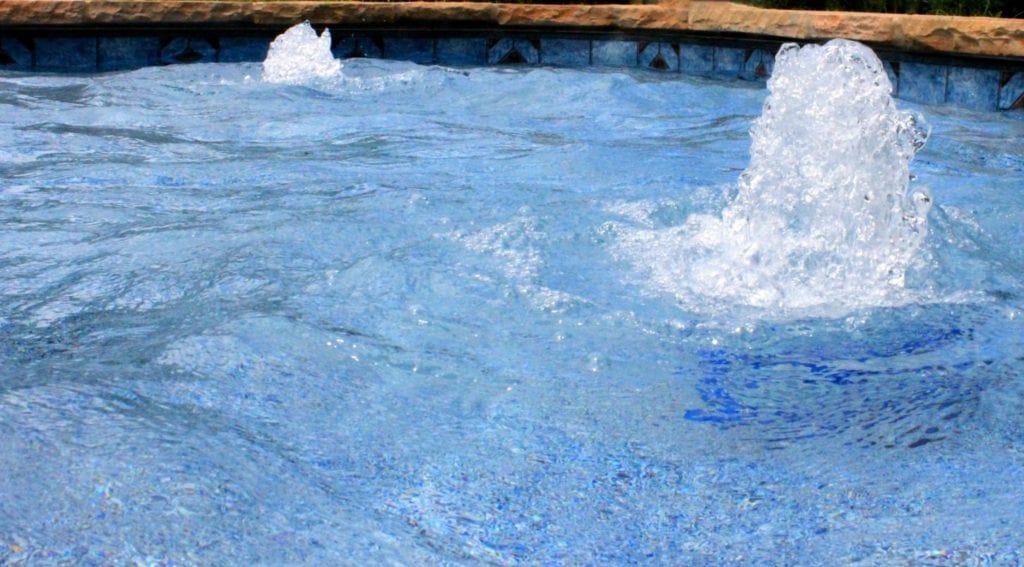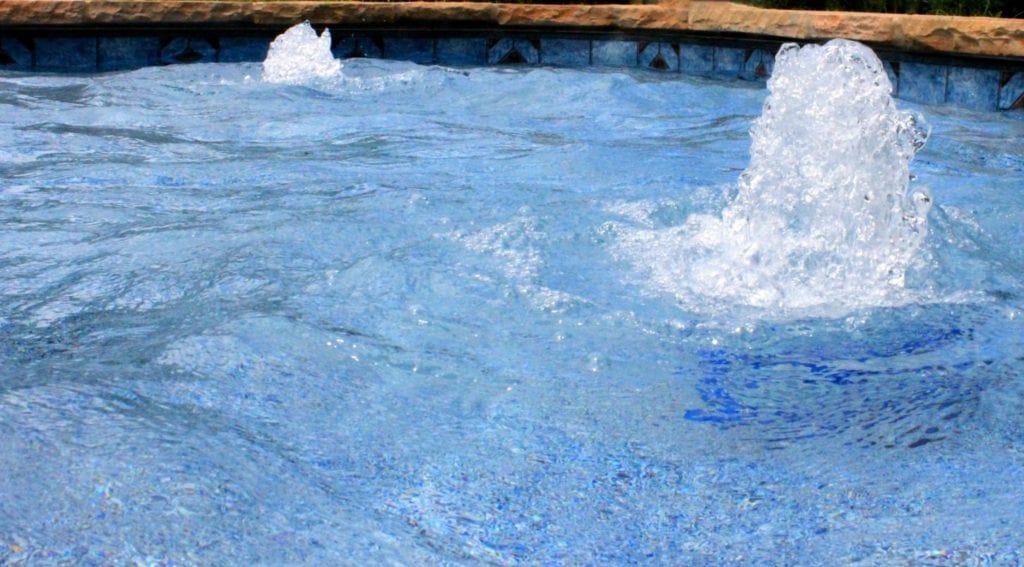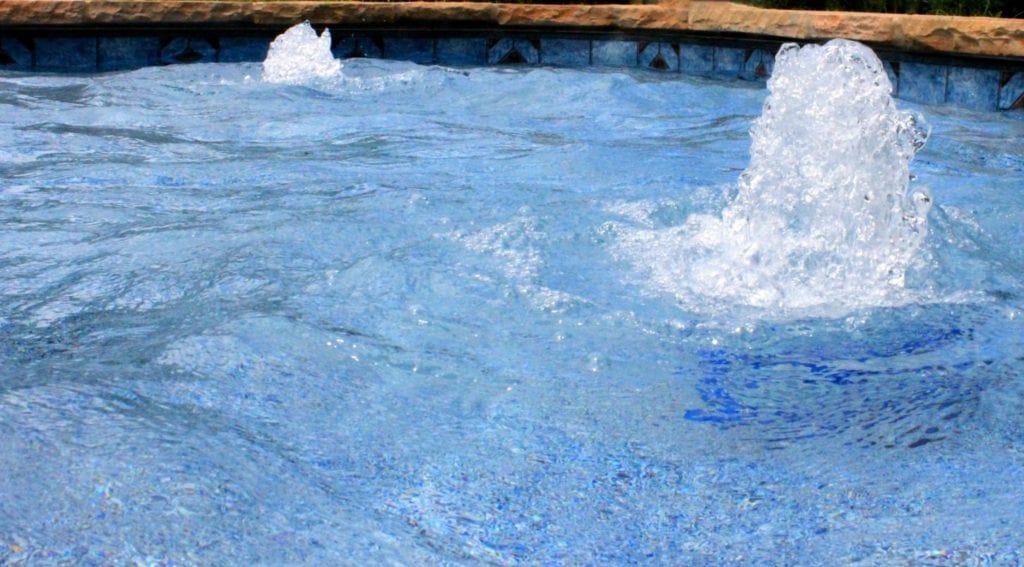 Bubblers are essentially in-pool fountains. They're pool jets that sit on your pool floor and point upward, creating a small, cascading water fountain on the surface.
And another charming feature of bubblers, comes from the tranquil bubbling sound they make as they gently push water to the surface. So they're nice to look out, and sound pleasant to the ear.
14.) Install more jets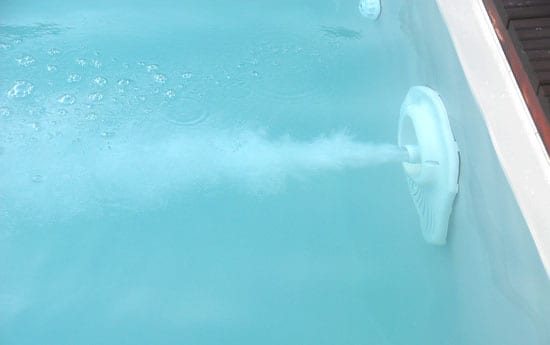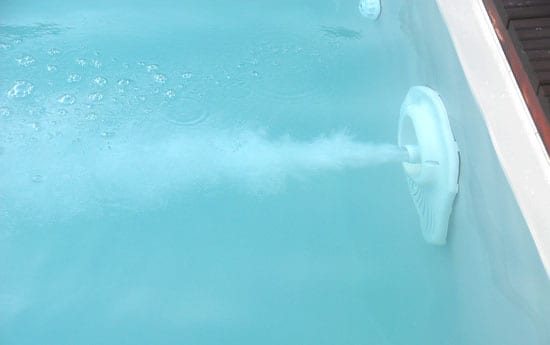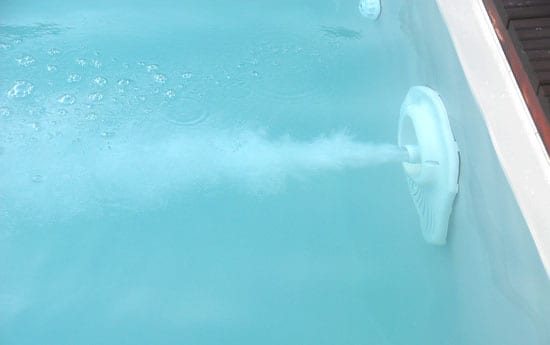 Pool jets are typically a pre-installation pool feature, but they're worth taking the time to include in your plans.
For any pool owner who wants to have a clean, pristine pool with fresh flowing water, good circulation is a must. And if pool jets do one thing well, it's circulating your water. Plus, let's be honest, they feel great against your back.
Bottom line: the more pool jets you have, the better your water circulates throughout your pool and filter system.
15.) Put up a pool basketball hoop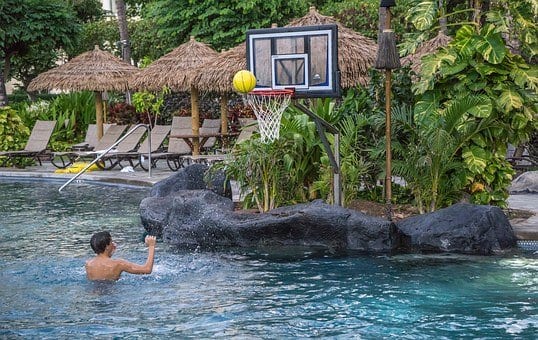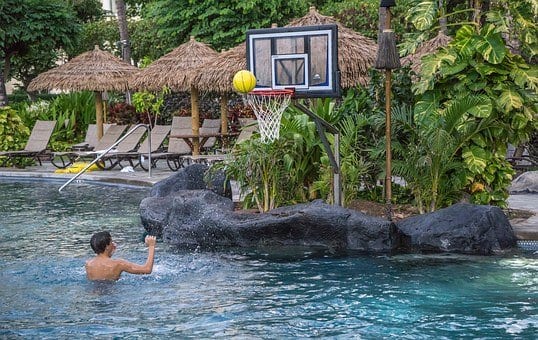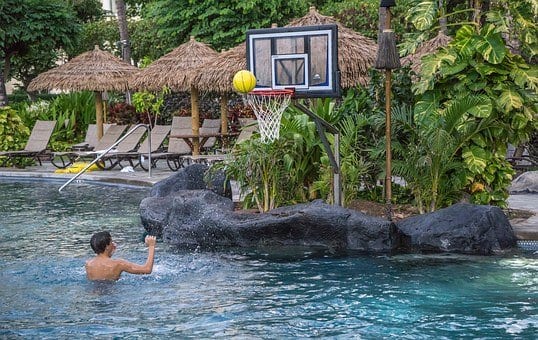 Adding a basketball hoop to your pool is a great way to upgrade your pool for games and activities.  Pool basketball hoops range in price, but come in both mobile and permanent styles.
16.) Add some pool patio furniture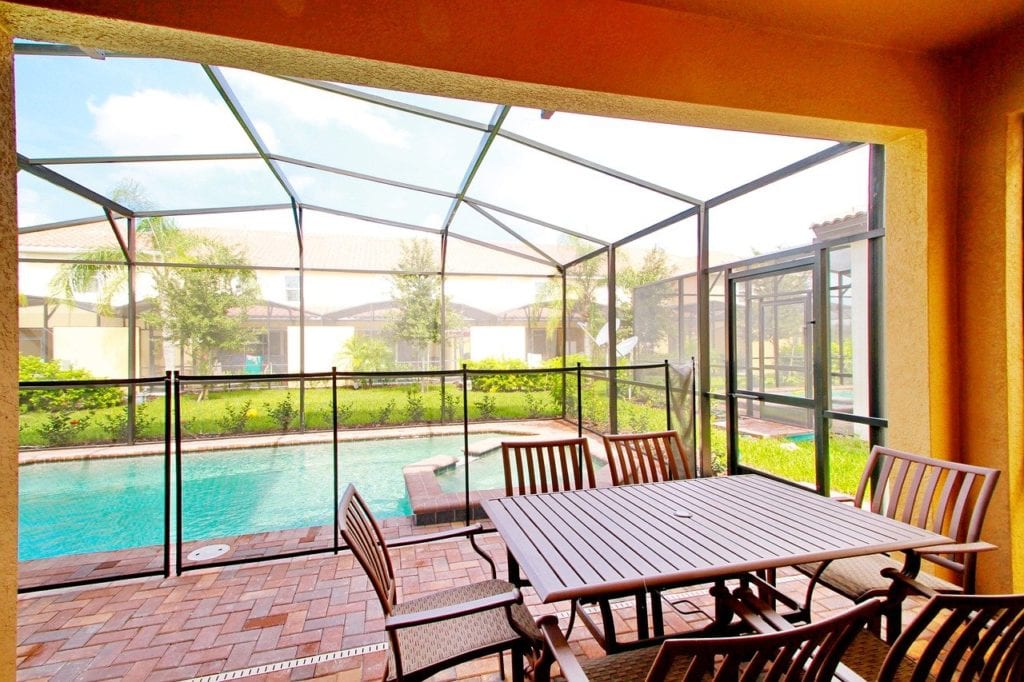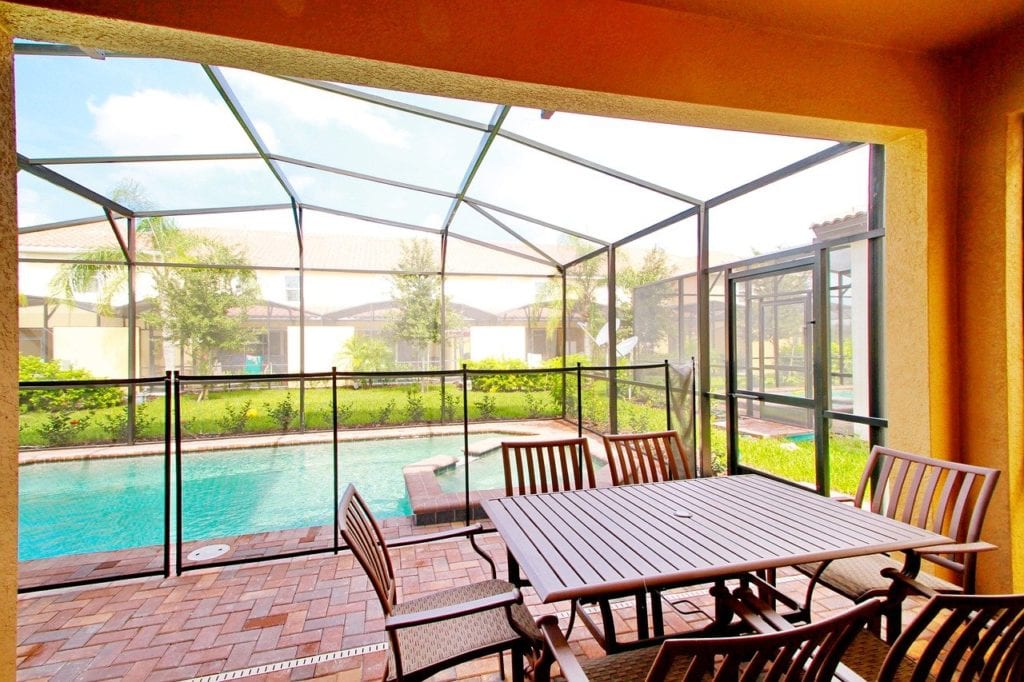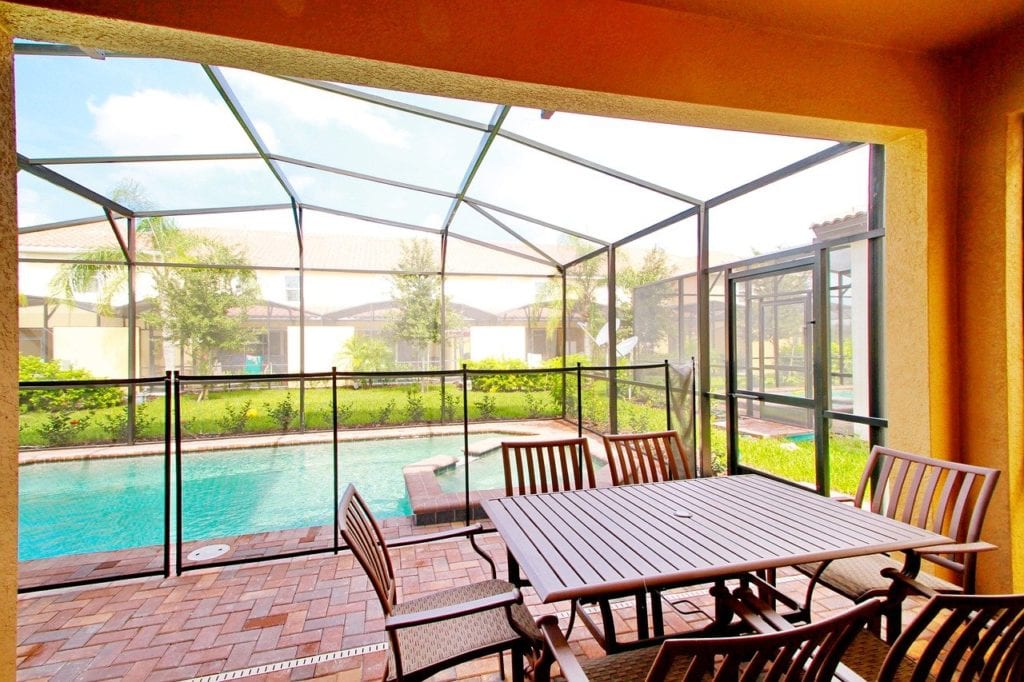 If you have extra room around your pool deck, you can add some pool patio furniture to create a communal space for meals and gatherings. But if you want to keep your pool as the focal point of your backyard, add a few more lounge chairs around the deck to spread out the furniture.
17.) Bring in some pool-friendly plants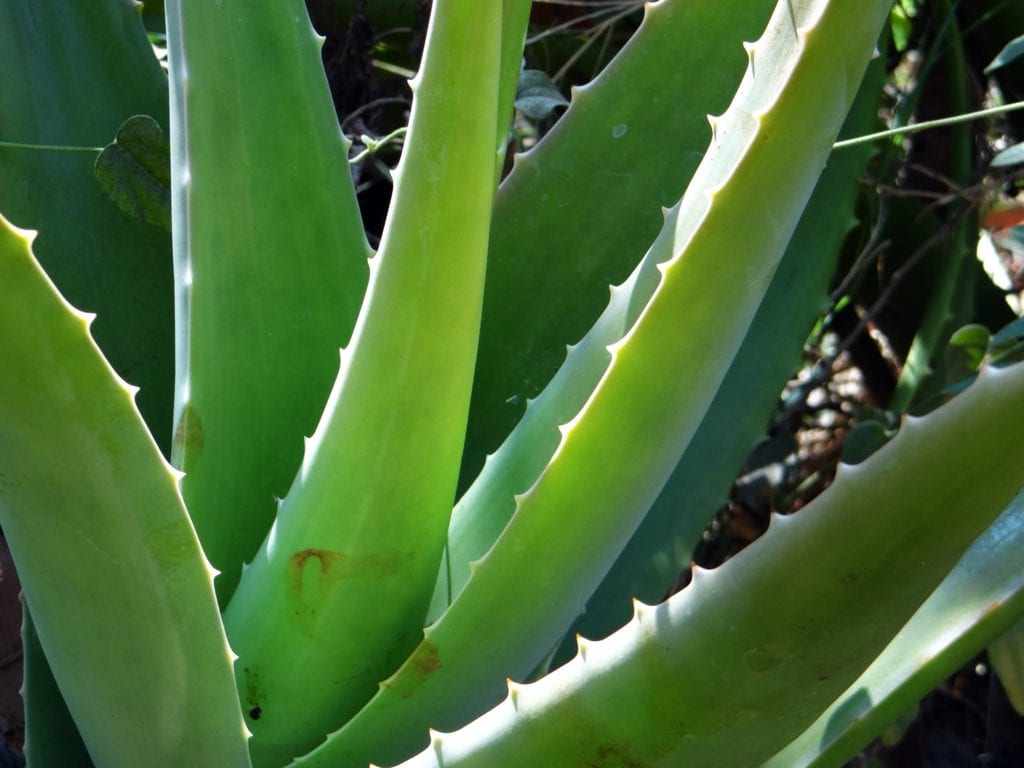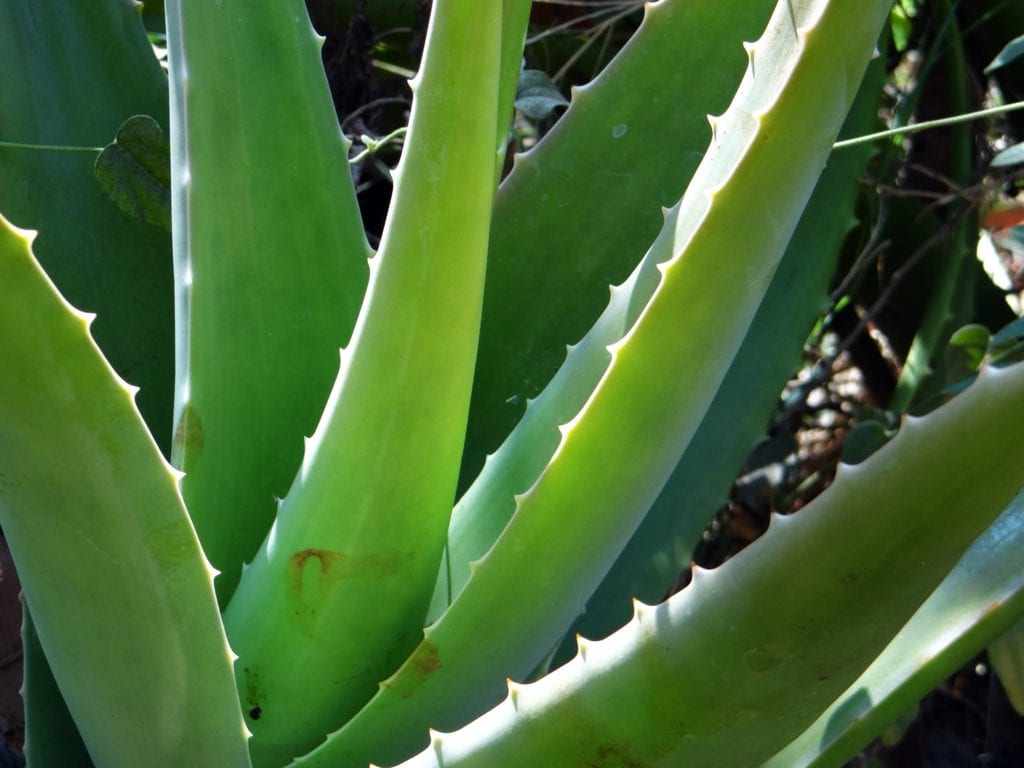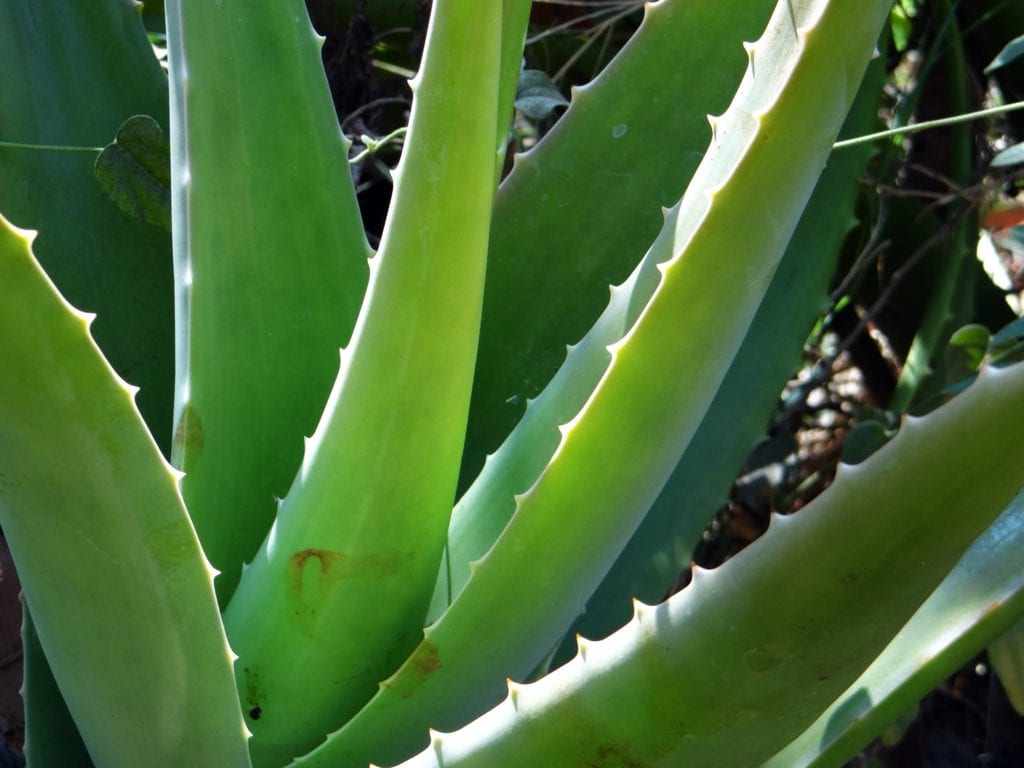 Adding a few plants around your pool not only livens up the space with color, but also helps keep the air around your pool cleaner. And there are a few types of plants that do particularly well around the humid environment of a backyard swimming pool.
Some pool friendly plants include:
Palm trees
Live oaks
Aloe vera
18.) Upgrade to a salt water pool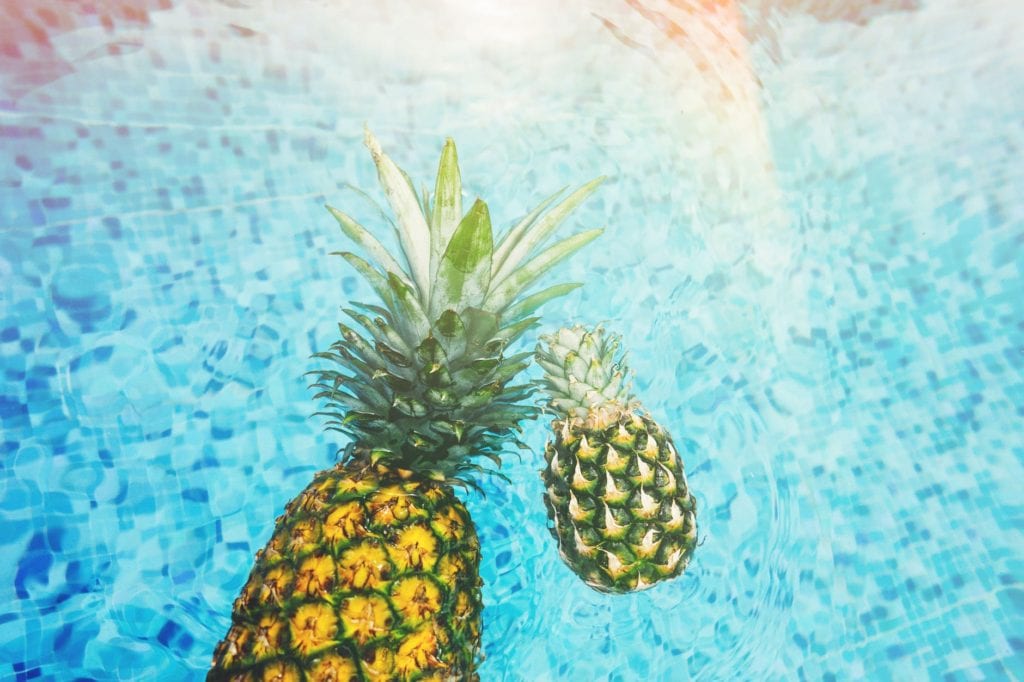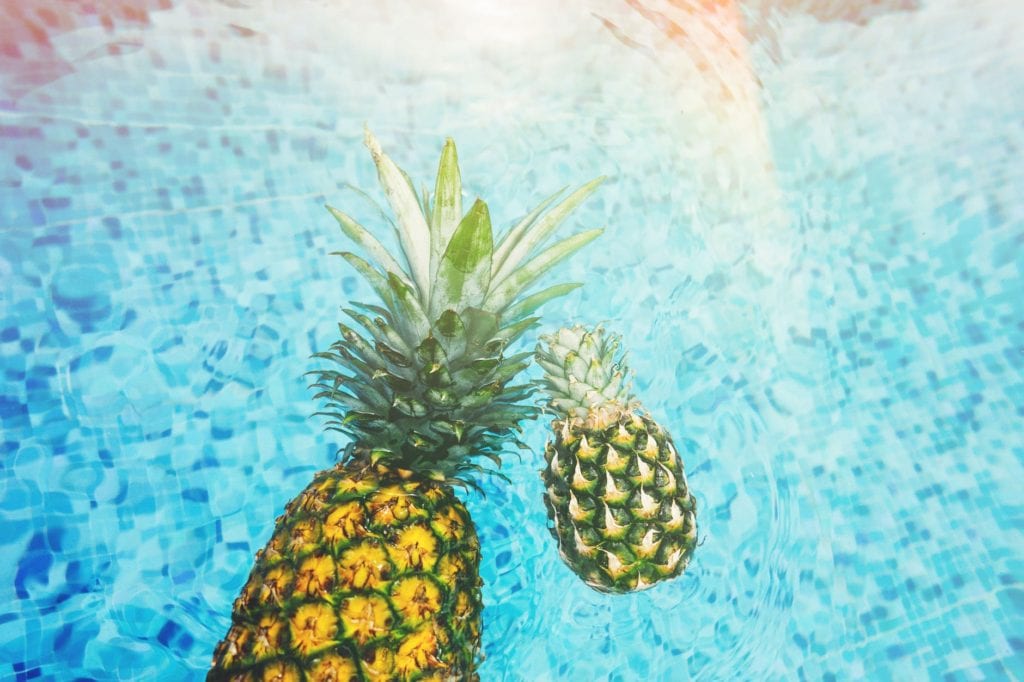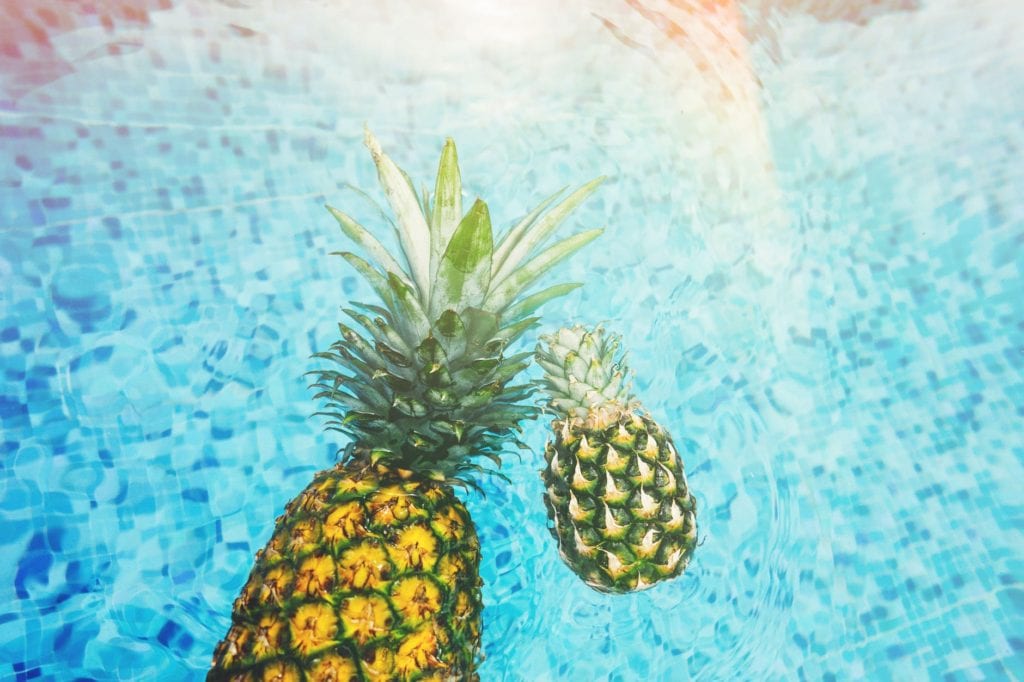 Salt water pools are great for people who want to enjoy softer water. Water treated by saltwater chlorine systems is ideal for swimmers with allergies to traditional liquid and granular chlorine. Plus it feels noticeably smoother on the skin.
You can learn more about the benefits of saltwater pools here: 9 Salt Water Pool Benefits You Should Know About
19.) Add some in-pool furniture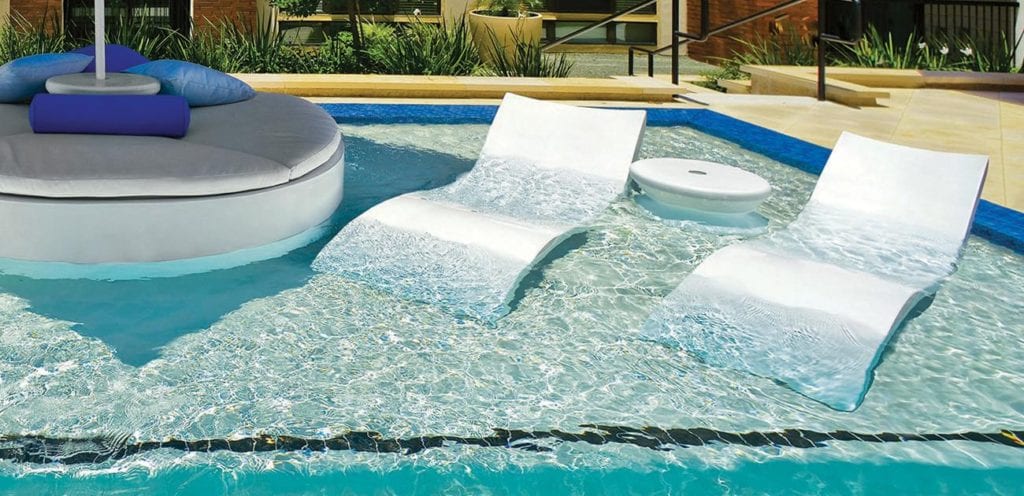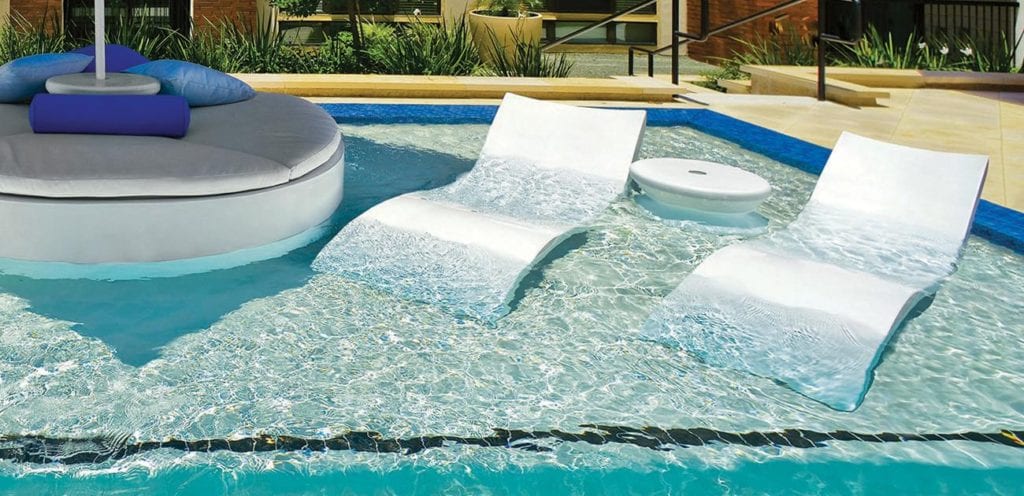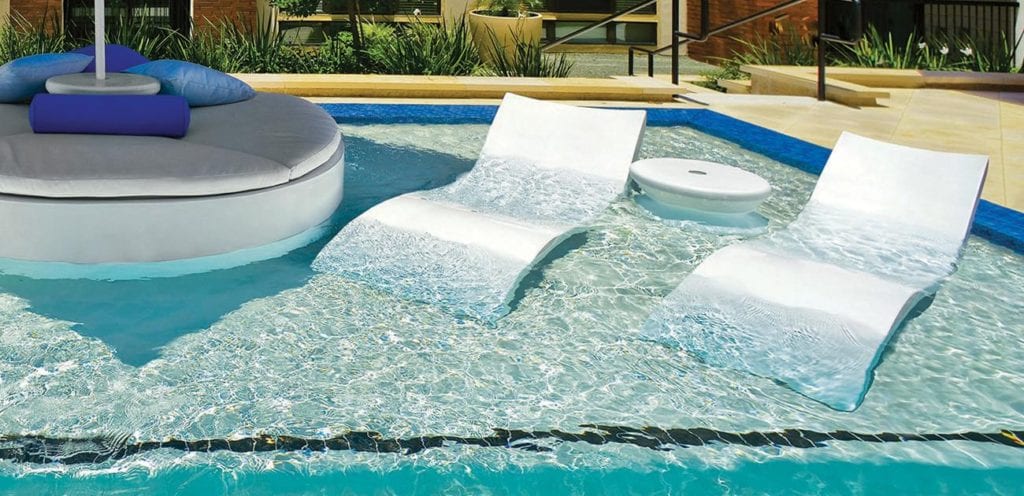 Image via Texacraft
If your pool has a tanning ledge, then you already have the perfect spot for in pool furniture. A few in-pool loungers and a table create the escape for catching some rays and enjoying a few drinks as your cool off and relax in the water. You can also purchase other types of in-pool furniture, like beds, chairs, and couches.
20.) Warm up that water with a pool heat pump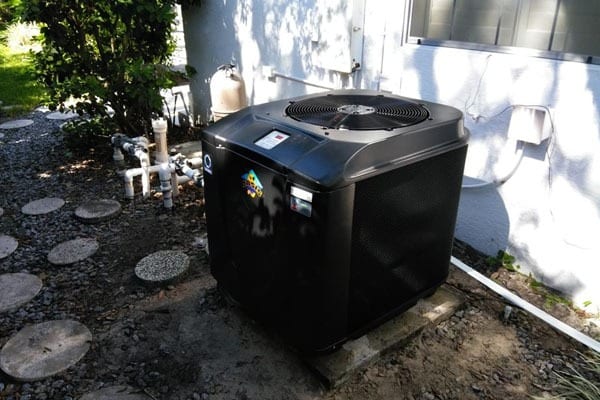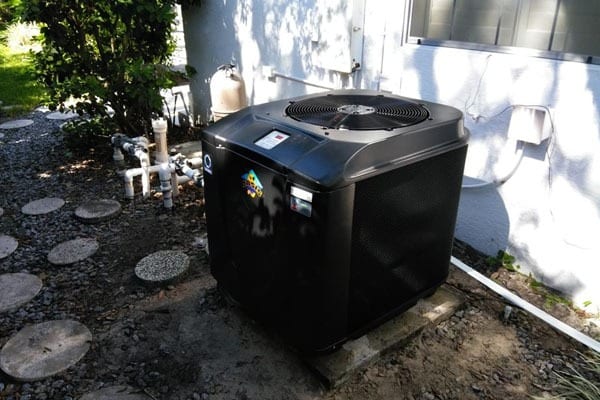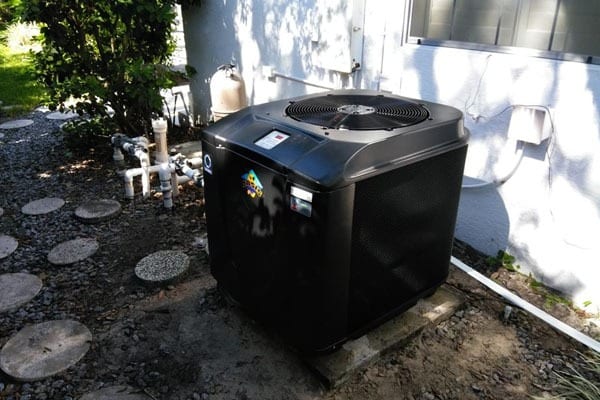 Although your pool won't "look" any different, it'll certainly feel a lot different. Heating your pool is one of the most important addons you can get as a pool owner.
When you heat your pool with a pool heat pump, you can swim at whatever temperature water you want nearly any time of year. Rain, shine, clouds? It doesn't matter, a pool heat pump can handle it all — keeping you and your swimming pool comfortable month after month.
Related: 7 Ways Pool Heat Pumps Make Pool Heating Easier
21.) Cover the pool to keep it clean and warm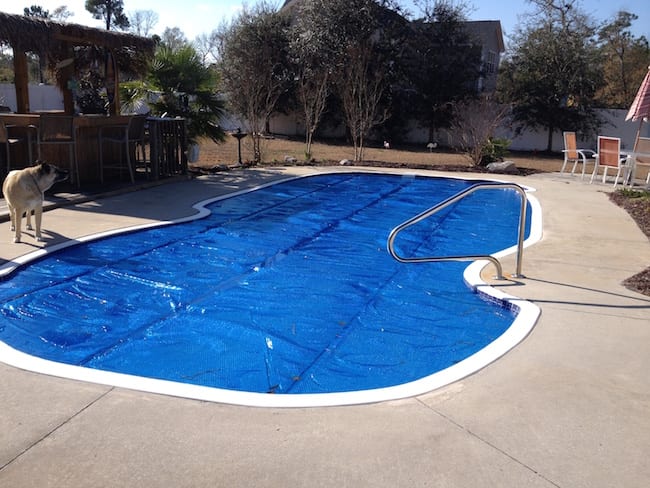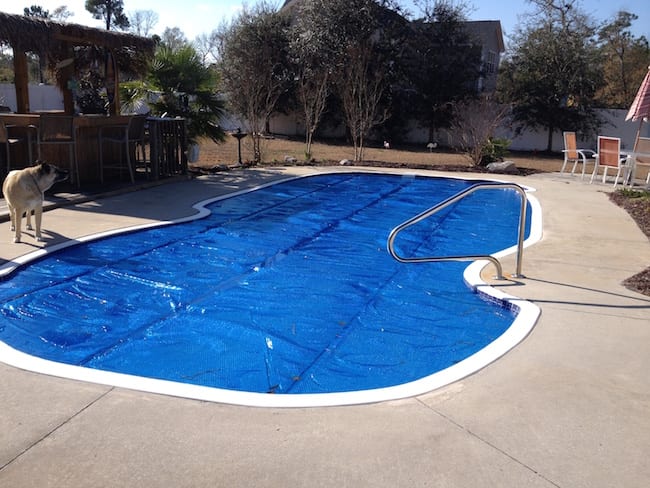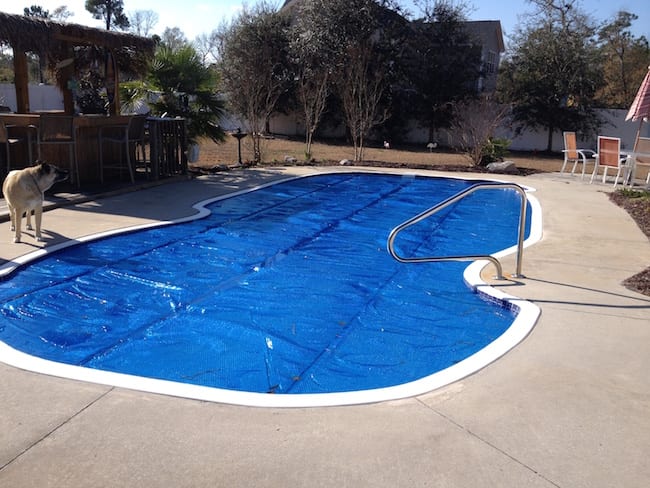 Covering your pool is a good idea for a few reasons:
Pool covers help keep leaves, bugs, and debris out of your water
Covering your pool helps prevent heat loss, which keeps your water warm
A covered pool loses less water, which saves money
22.) Use a robotic pool cleaner to brush the pool for you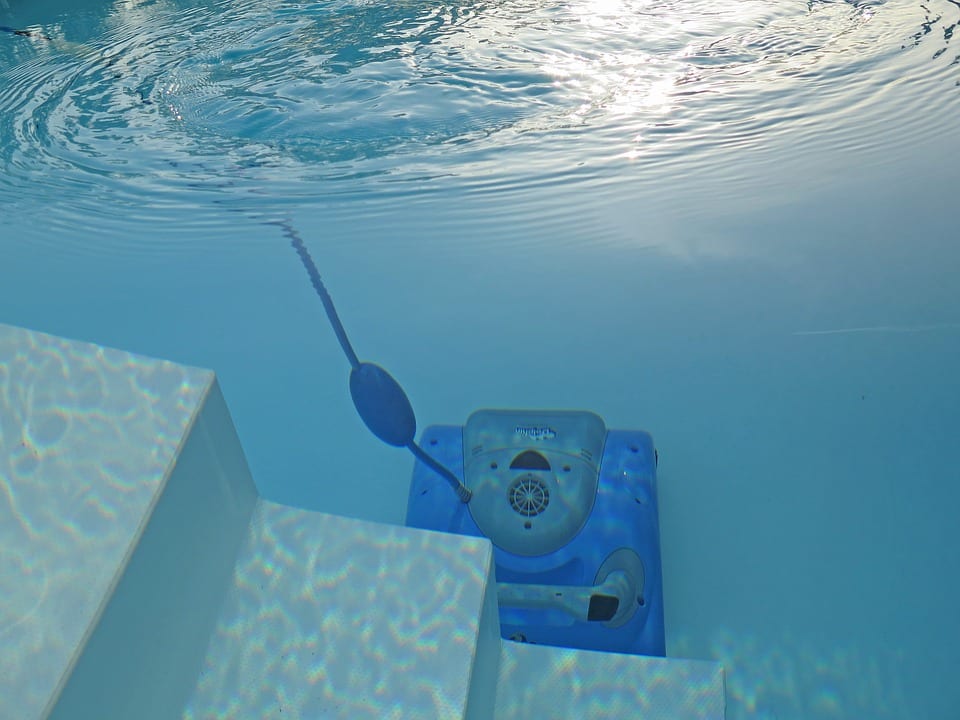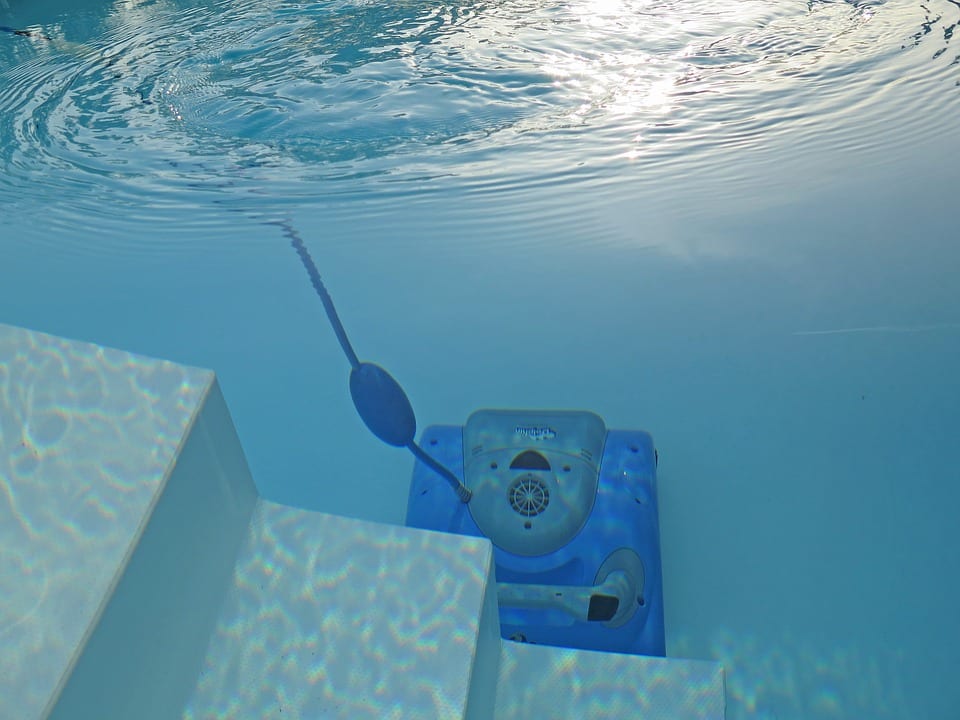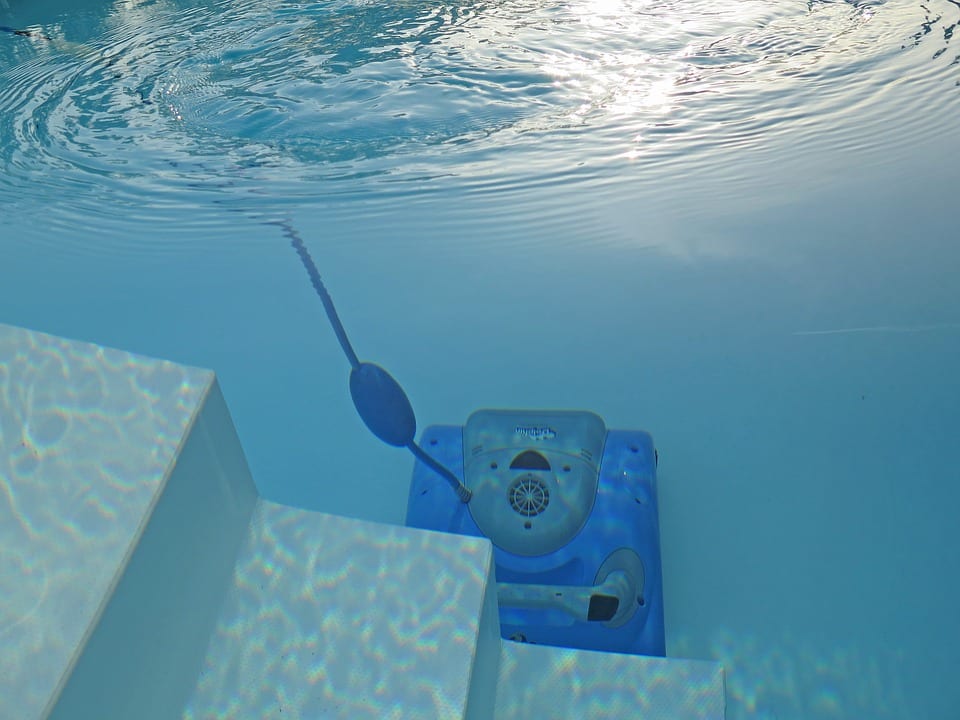 Tired of brushing and vacuuming the pool each week? Well, good news! You can get a robotic pool cleaner that does it all for you. Just plug it in, drop it in your pool, and relax as the cleaner goes to work.
Automatic pool cleaners are a wonderful addition for any pool owner looking to cut down on maintenance, and automate pool cleaning.
You can learn about the different type of pool cleaners here: Automatic Pool Cleaners 101
23 Make it a pet friendly pool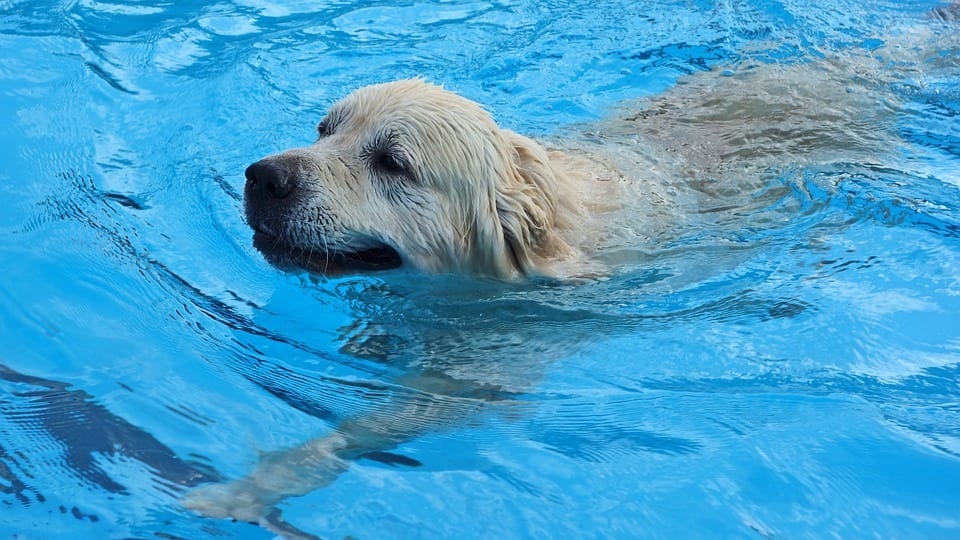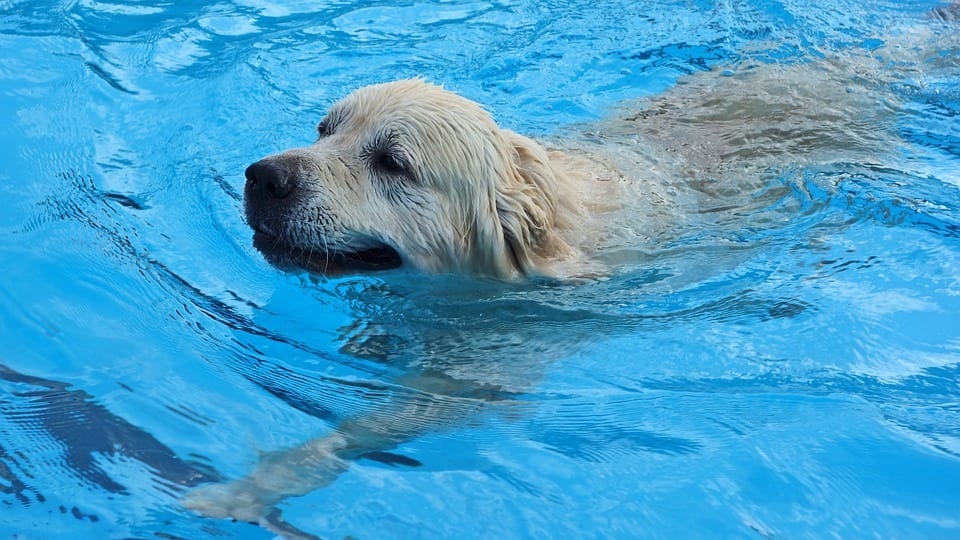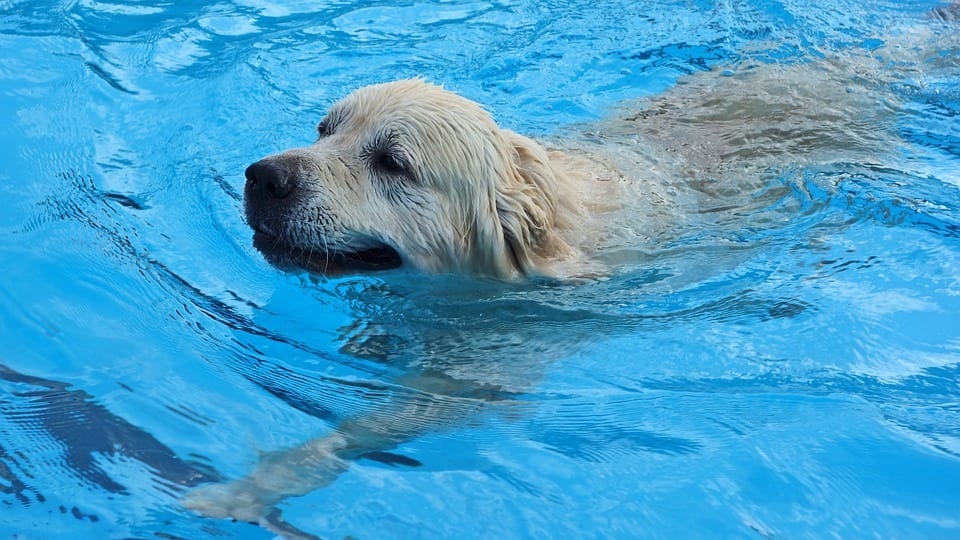 If you install a tanning ledge in your swimming pool, then you're already on the right track to creating a pet friendly pool.
To ensure that your pool is pet friendly:
Include a spacious tanning ledge
Ensure that the tanning ledge isn't deep
Choose a pool surface that can't be damaged by pet claws (fiberglass, concrete)
Several easy-to-access entrances and exits (like your tanning ledge)
24.) Choose a small inground pool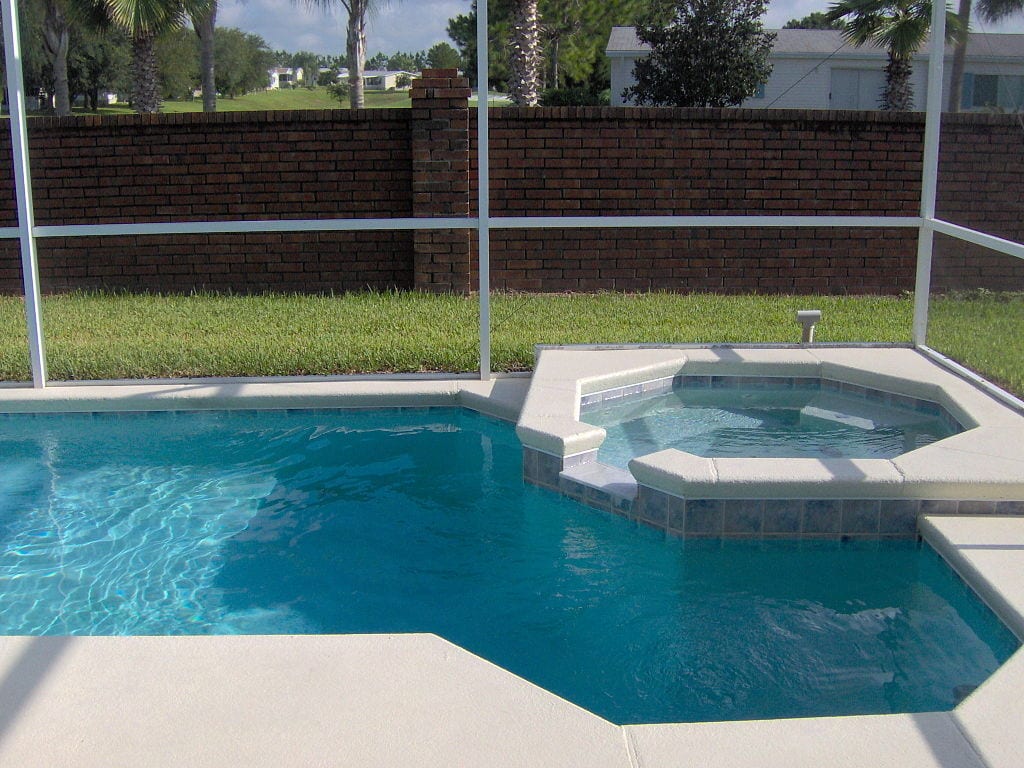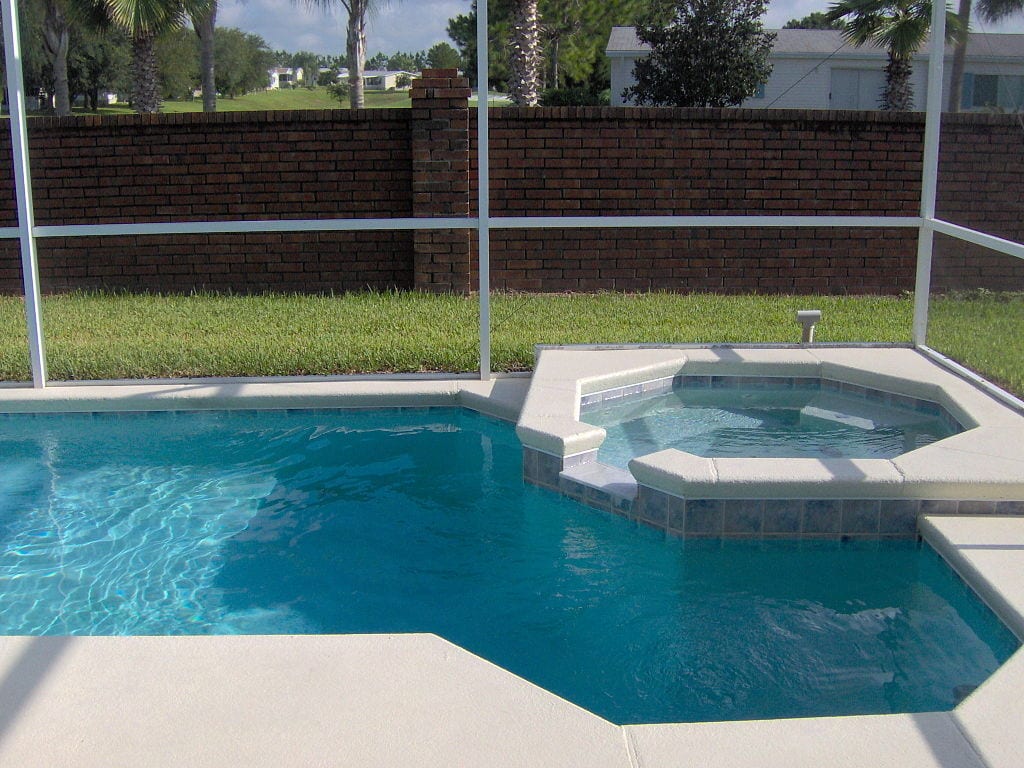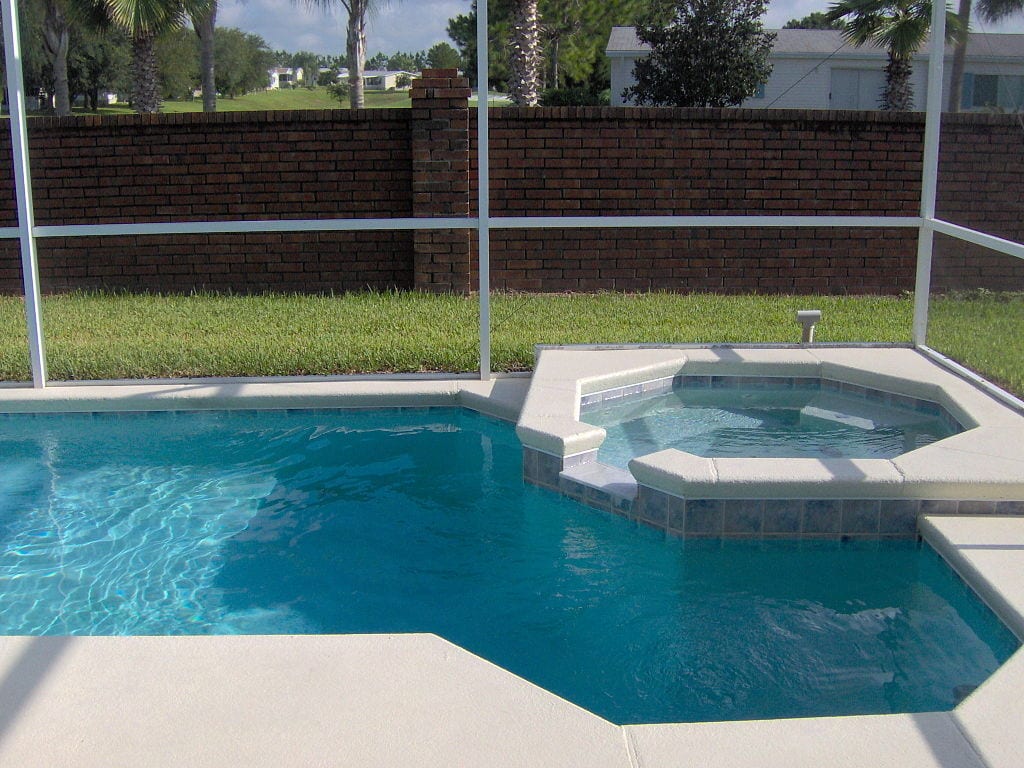 If you're working with limited space in a small backyard, then building a small inground pool might be the solution you're looking for.  With small inground pools, you still get to enjoy all of the benefits of a standard sized pool, just in a more close knit space. But they end up being cheaper to install, and less money to maintain in the long run due to their compact size.
So if you're looking for backyard inground pool ideas on a budget, this is one of the best places to start — with your pool design.
25.) Create a sand pool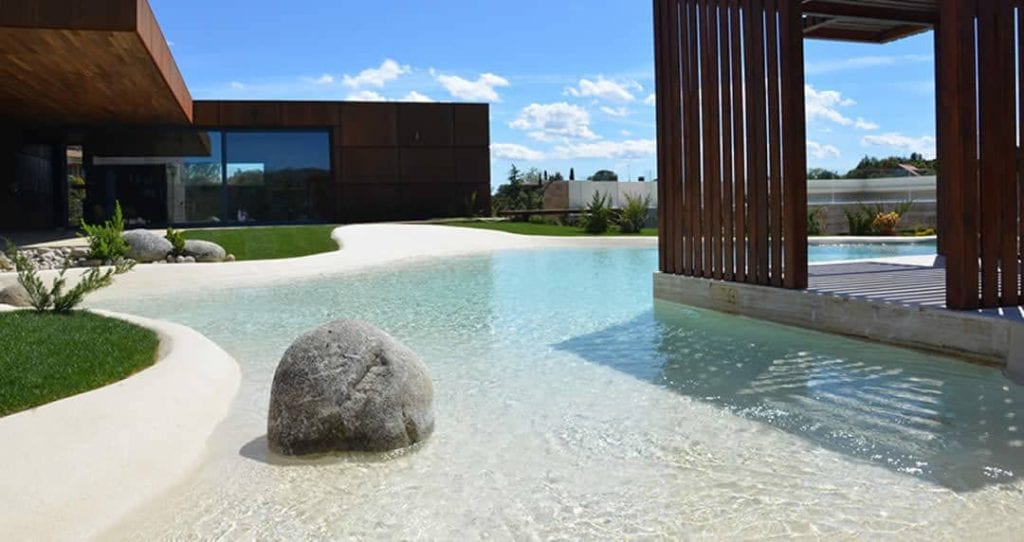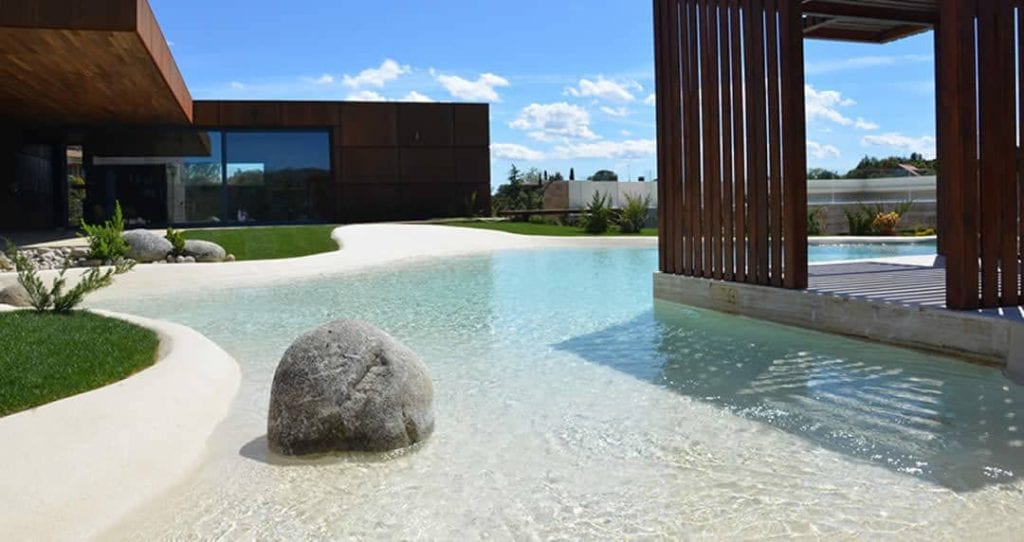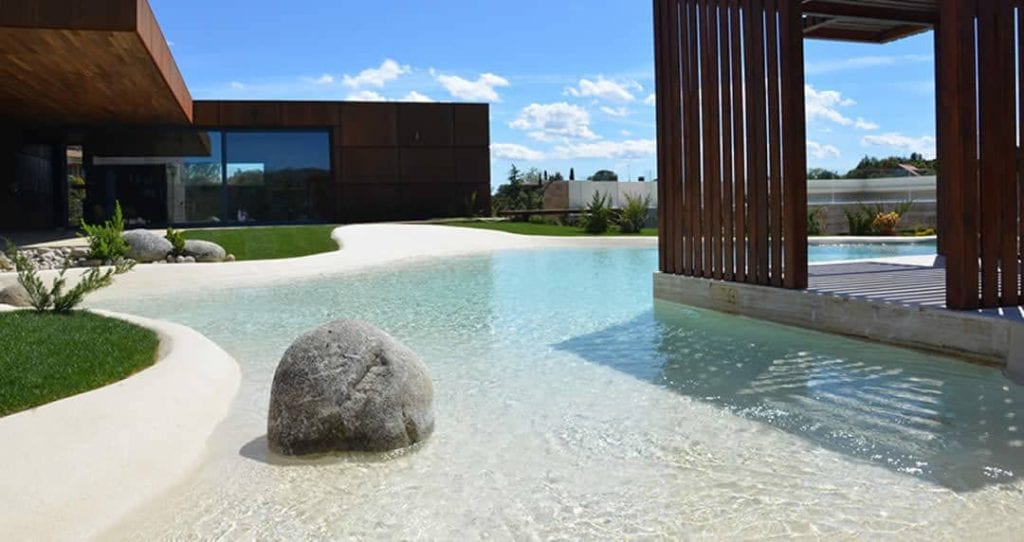 Image via Piscinas de Arena | Natursand
For those who prefer decorative and immersive themes, a sand pool is the perfect choice. It's made out of concrete with a special "sand-like" coating,  and is designed to mimic the shore of a beach.
With a sand pool, it's like your backyard truly becomes your own private island oasis. A secret lagoon just a few steps from your back porch.
The best way to create a sand pool is plan it out before installation. Contact a specialty pool builder (like Piscinas de Area) to get a quote for your own sand pool.
26.) Make a flower garden theme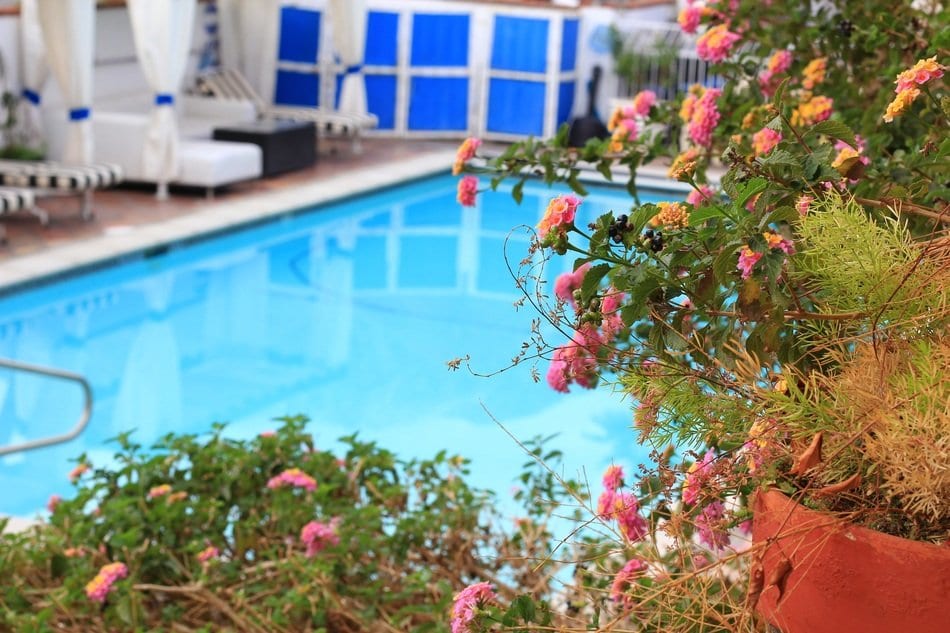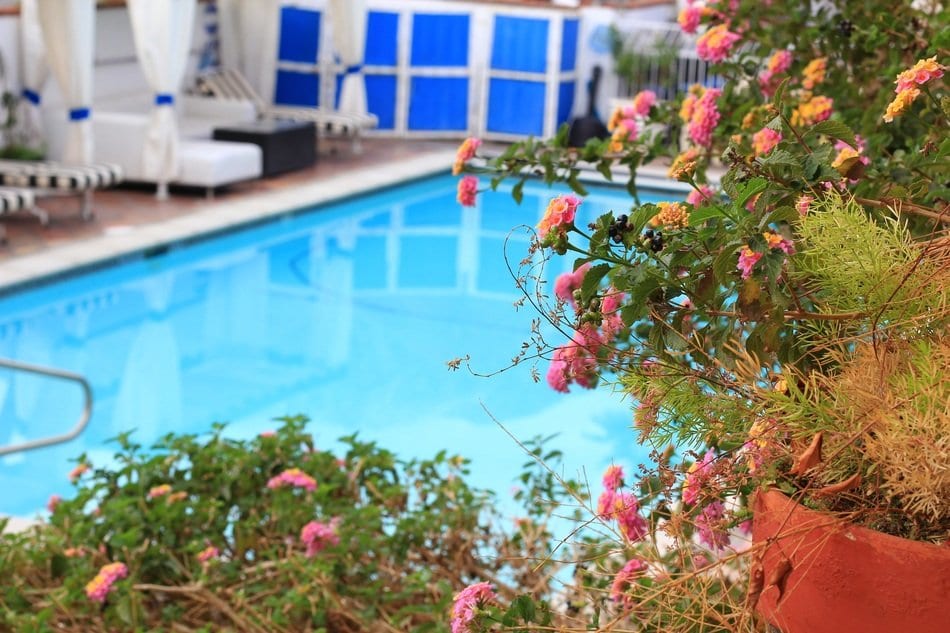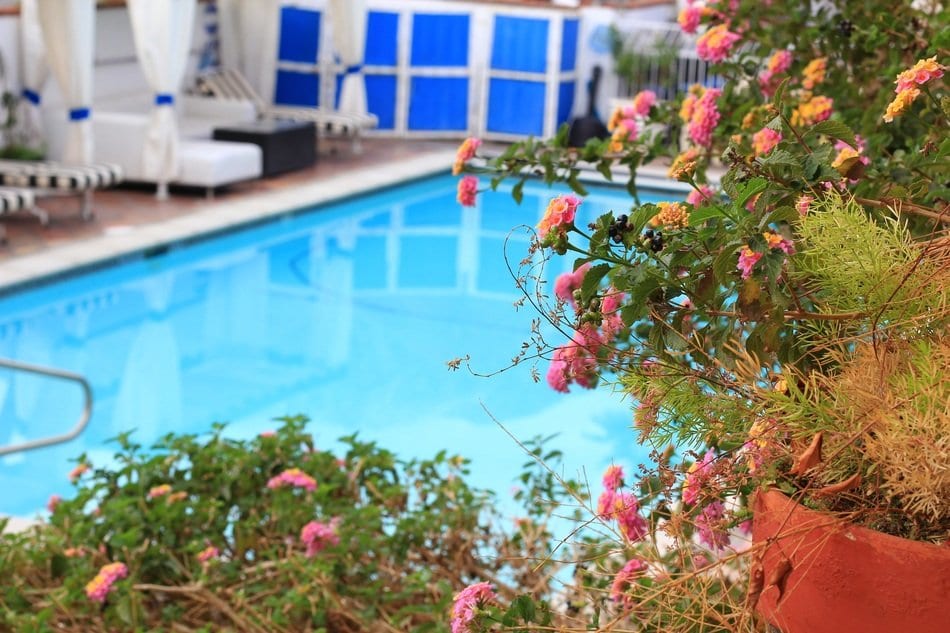 Some of these inground pool ideas will cost you quite a lot up front. But if you want to add some color and variety to your pool without spending too much, add a few potted flowers and bushes. You can choose a color scheme that matches the rest of your pool deck/patio or choose a few accent colors to create focal points around the pool deck. And with just a little bit of foliage and flora, your backyard looks like a whole new place.
27.) Swim in place with a lap pool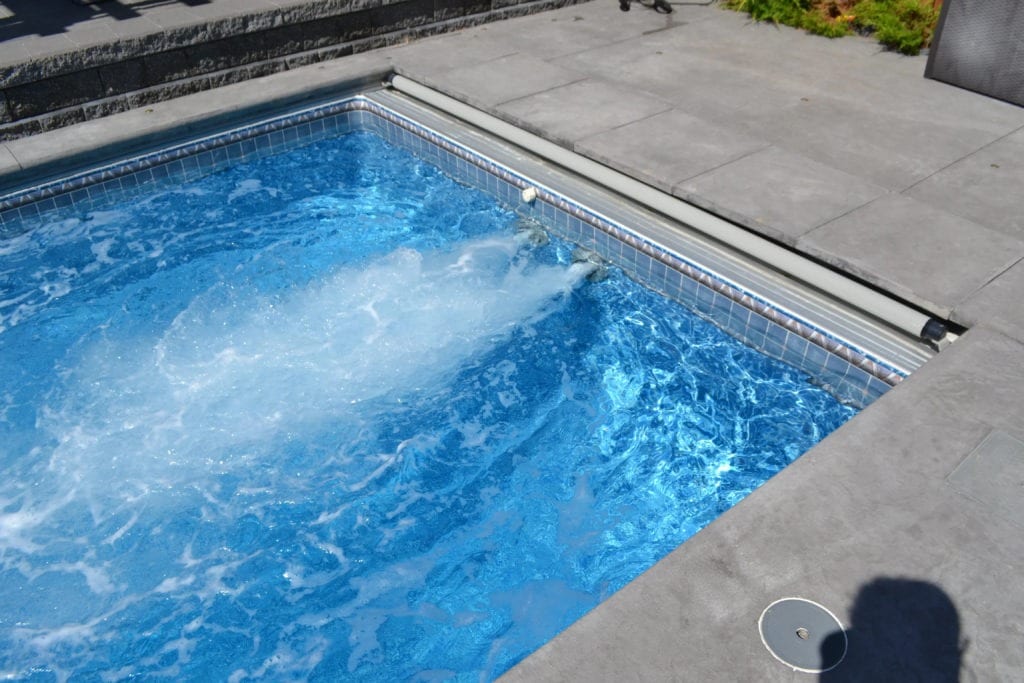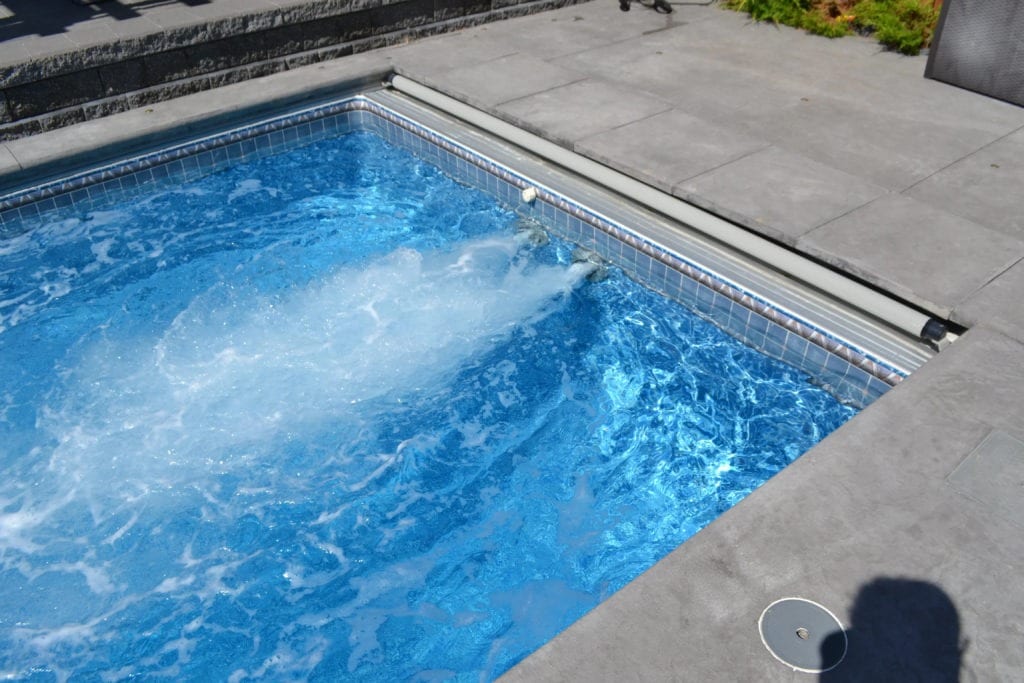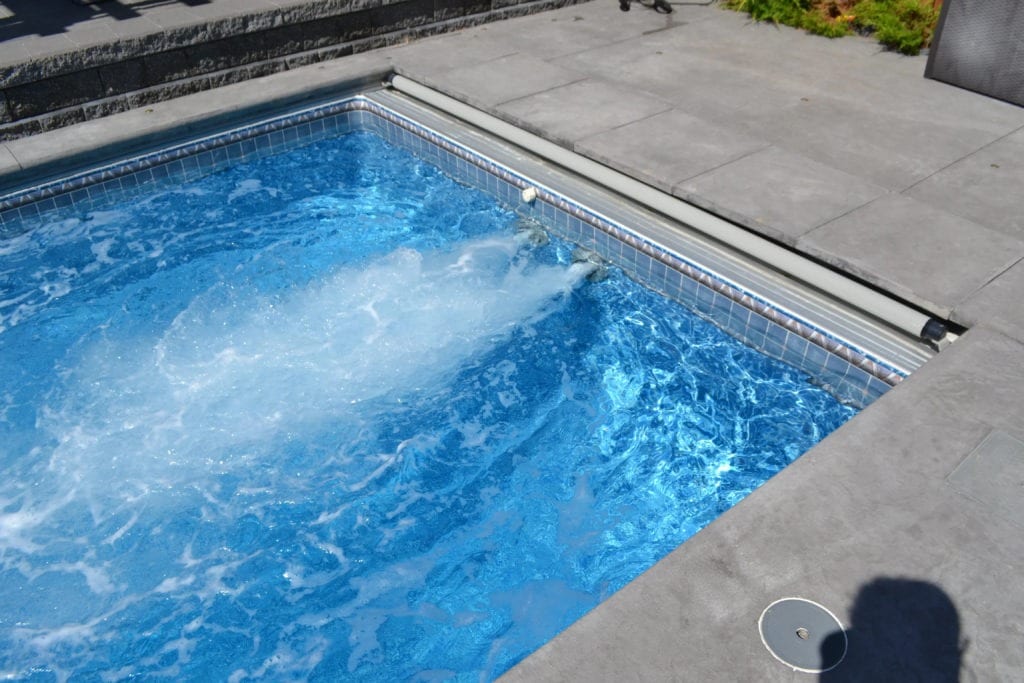 Image via AquaTech
Swim jets are high powered pool jets that simulate the force of swimming upstream. They're typically installed in small lap pools, and offer a great solutions for swimmers looking to swim a few laps in a small pool.
With swim jets on, the pool functions much like a water treadmill, where the current keeps the swimmer in place as they swim forward. The best time to install swim jets is prior to installation.
28.) Upgrade your pool deck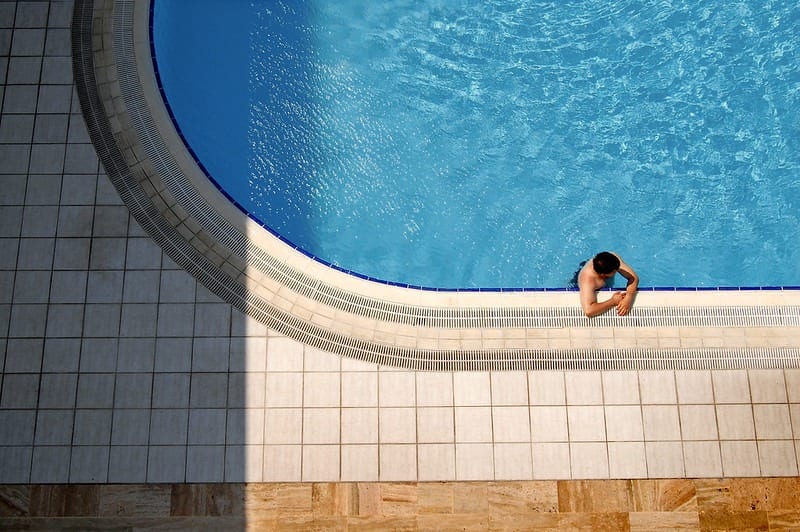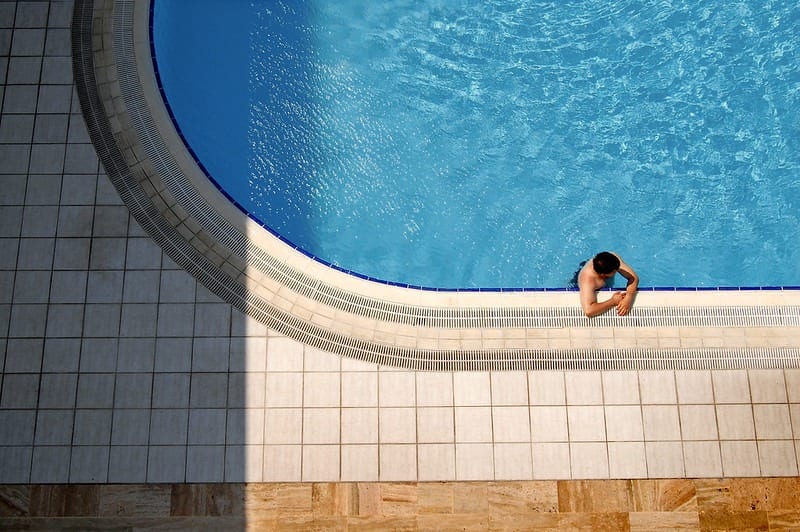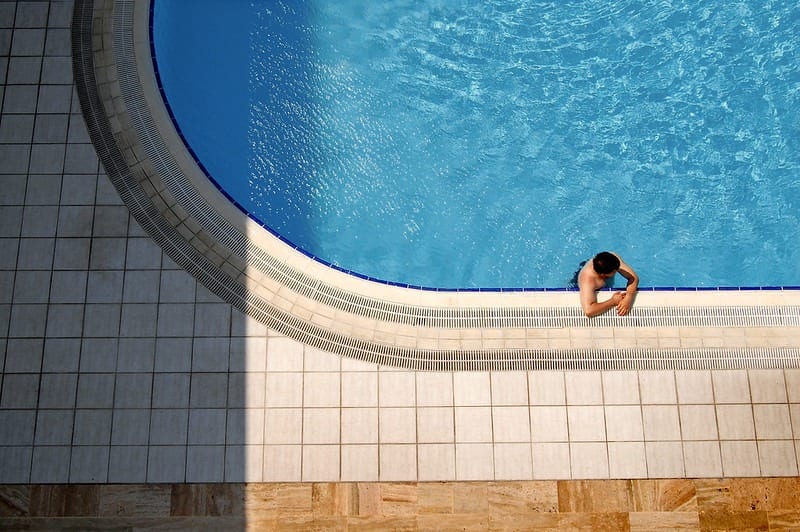 Image via Flickr
The material your pool deck is made of can dramatically affect the look of your pool. While certain colors and textures may be bold and eye catching, others might be more subtle and toned down. It all depends on the material you use. Whether it's wood, stone, tiles, mosaic, or concrete, you're sure to find a style that fits the look you want.
29.) Create your own pool bar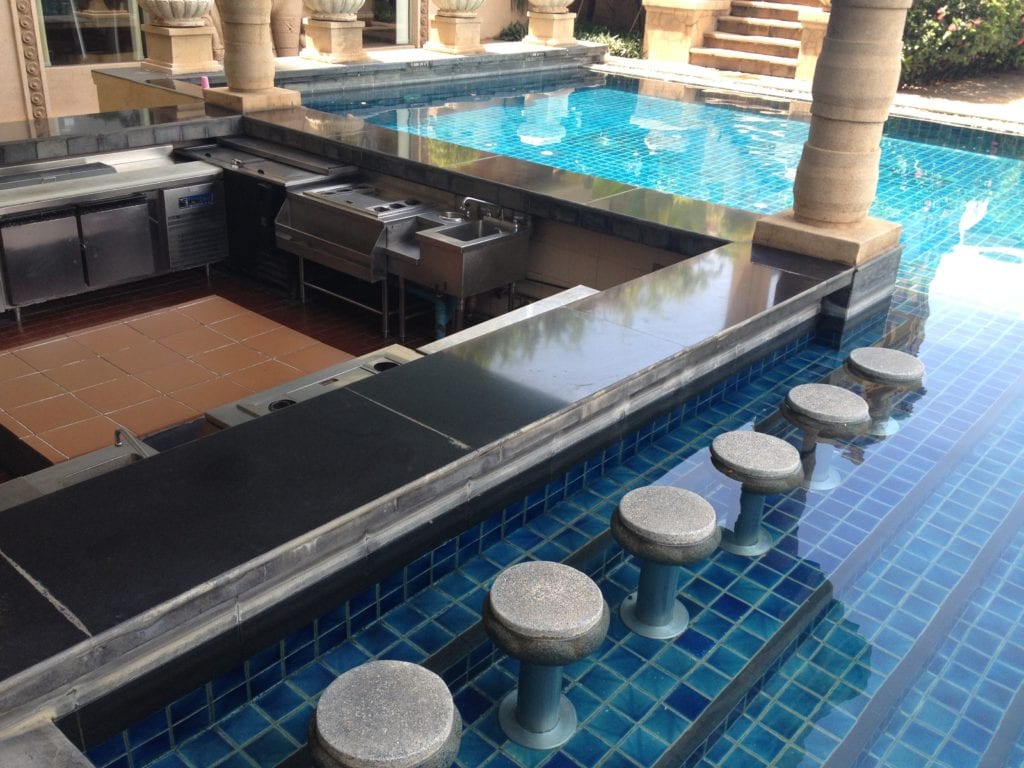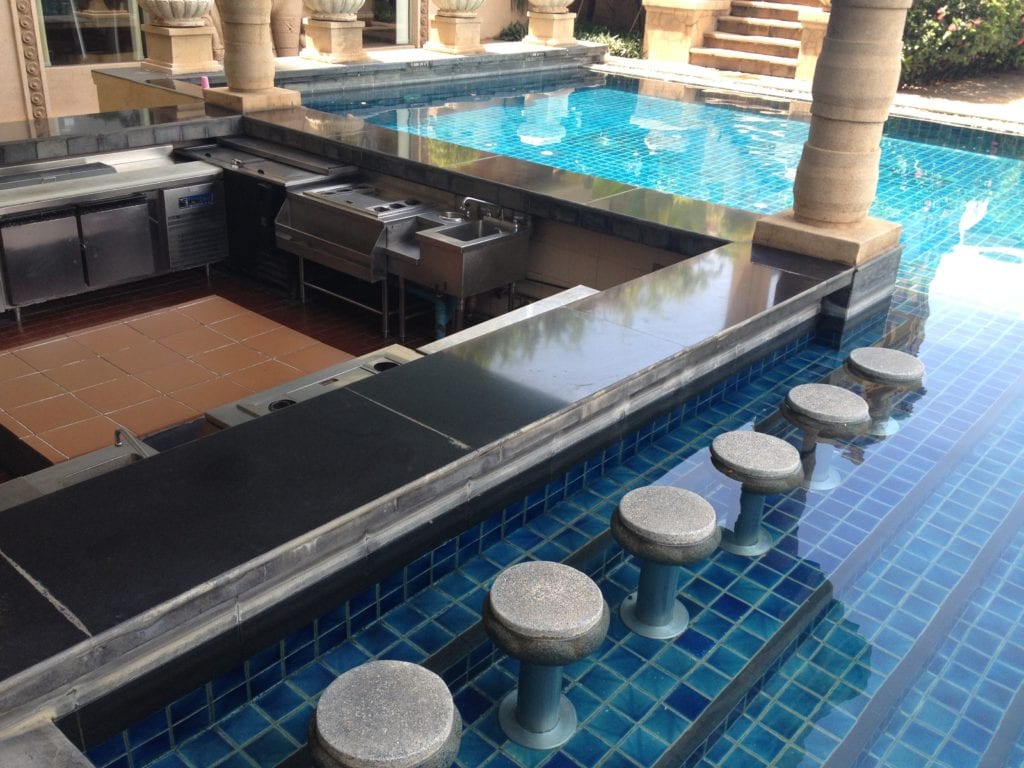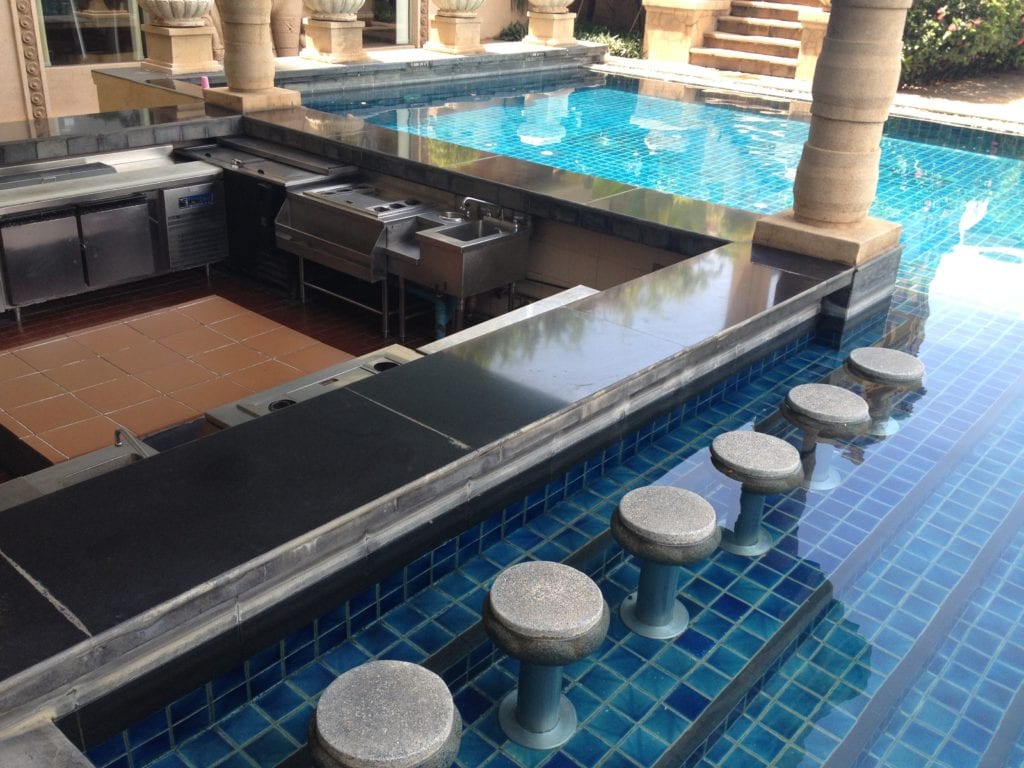 Creating your own pool bar starts with the simple addition of just a few underwater bar stools. Set a few up near the shallow end of your pool and you're halfway there. Add a small table nearby, a rolling cart, and you're good to go.
Of course, for more complex permanent installations, like pictured above, you'll want to plan it before building your pool.
30.) Block UV rays with a canopy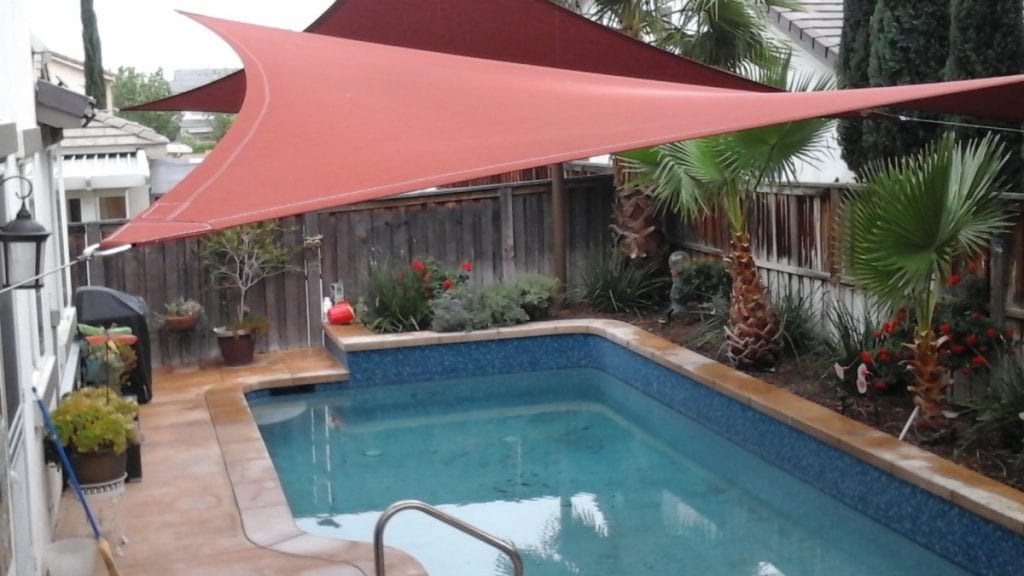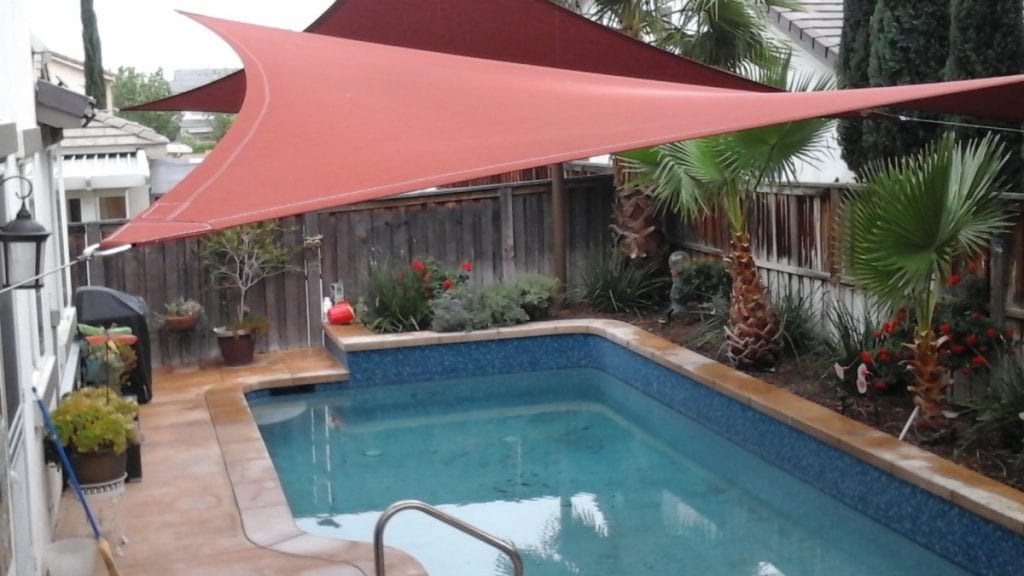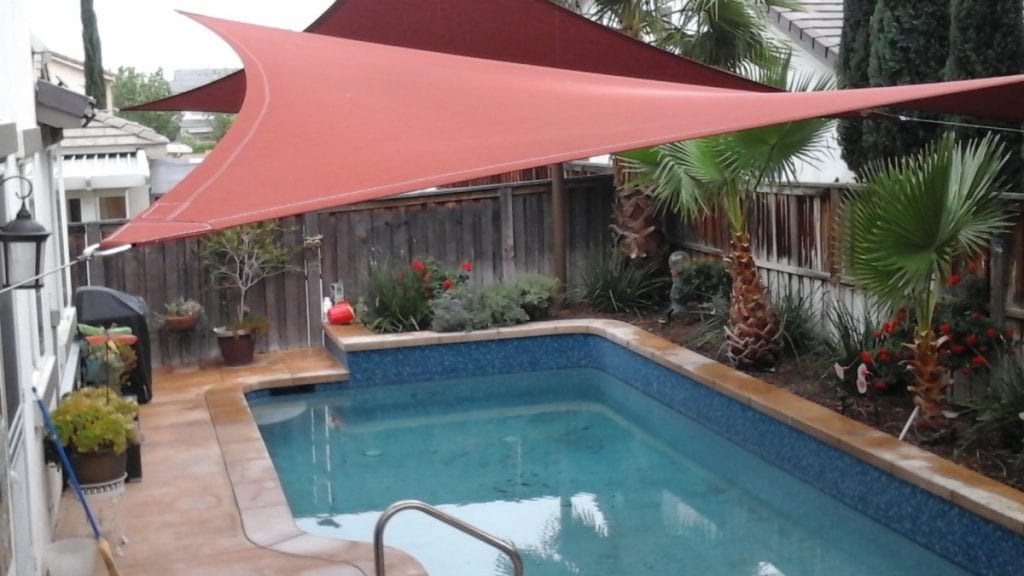 Image via OC Shade Sails
If you want to keep your self and your pool cooler during the hot summer months, adding a few overhead canopies is a good choice. Backyard canopies that extend over your pool are great for blocking out UV rays and adding some much needed shade to your backyard.
31.) Create pebble borders and gardens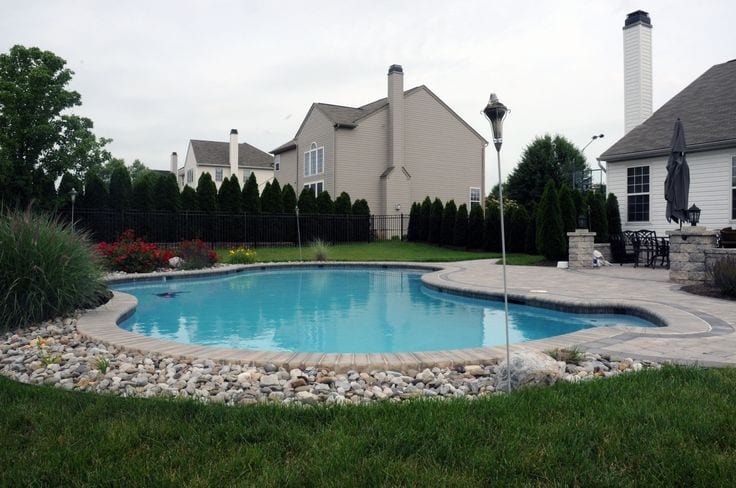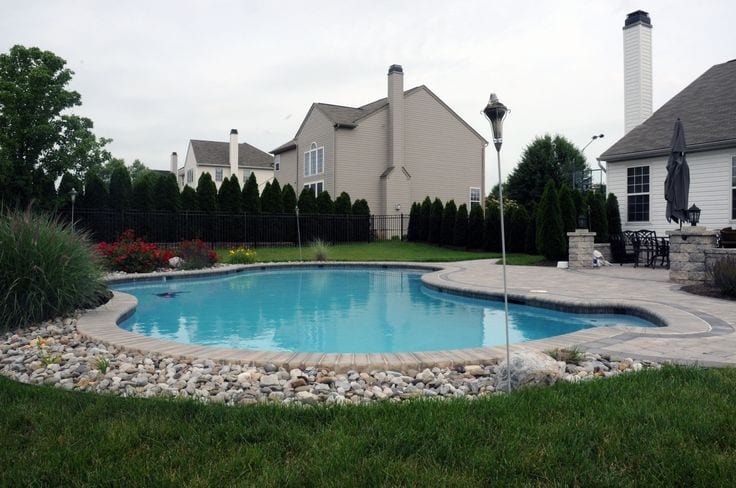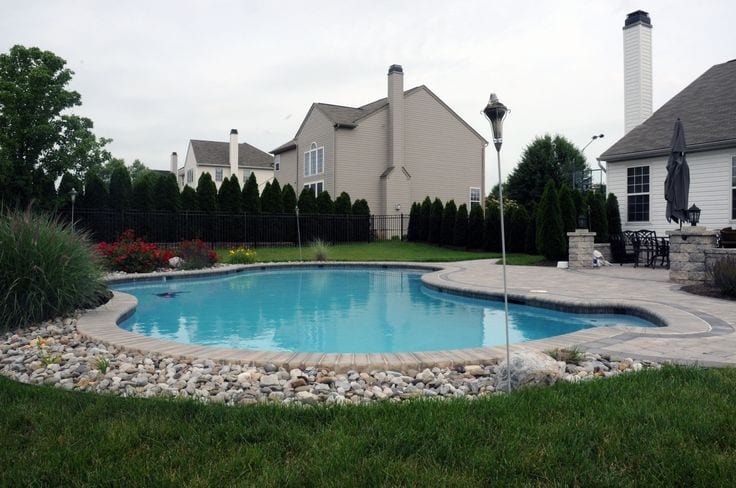 Image via Tim Bradley
If the edges of your pool touch the grass of your backyard, adding a rock border can be a great way to space them out. Pebble border, or rock gardens, fit smoothly with nearly any style of décor, and can be customized in a variety of ways, from stone color, to color and texture.
32.) Add a stone walkway to the pool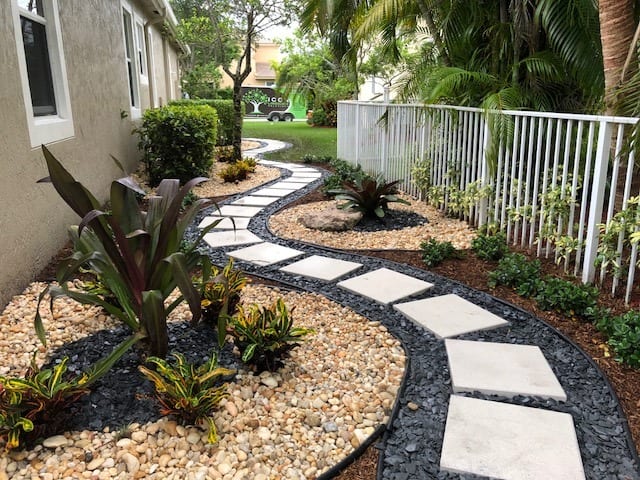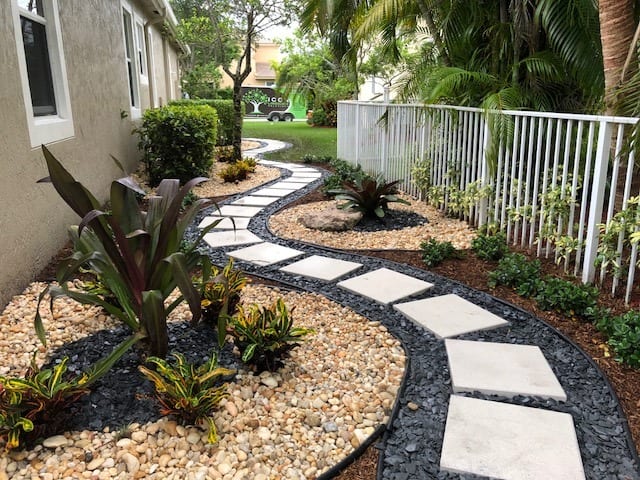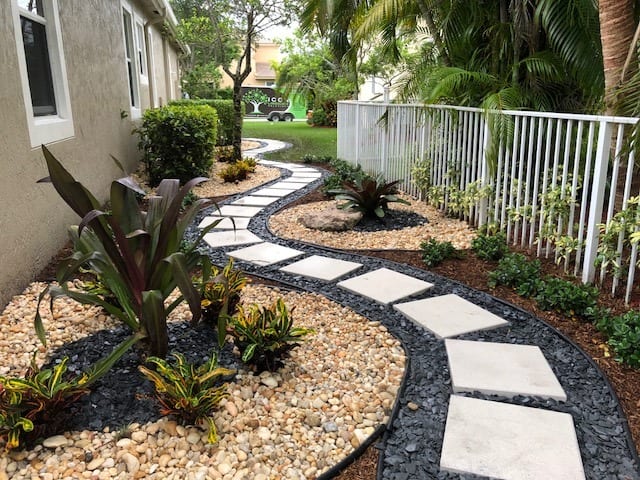 Tired of walking over grass and dirt to get to your pool? Make a stone walkway with a few paved stones, bags of rocks, and some landscape edging. It's a great way to add a permanent and easy to maintain pathway to the water. Plus, stone walkways look great and improve the landscaping around your pool.
33.) Automate the pool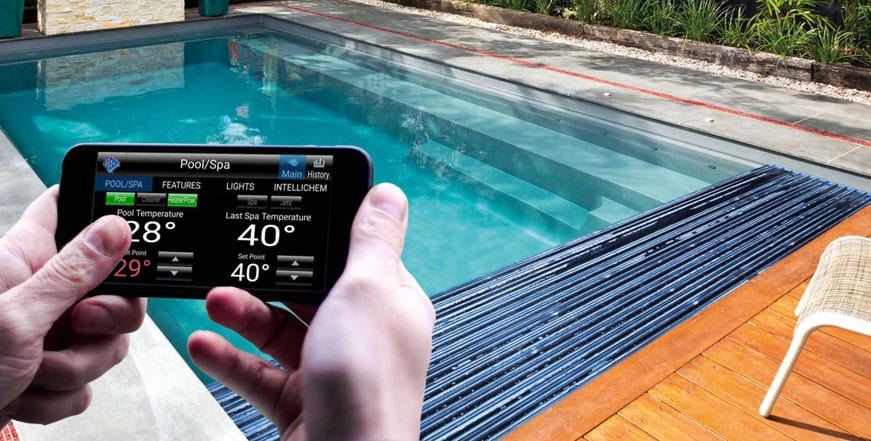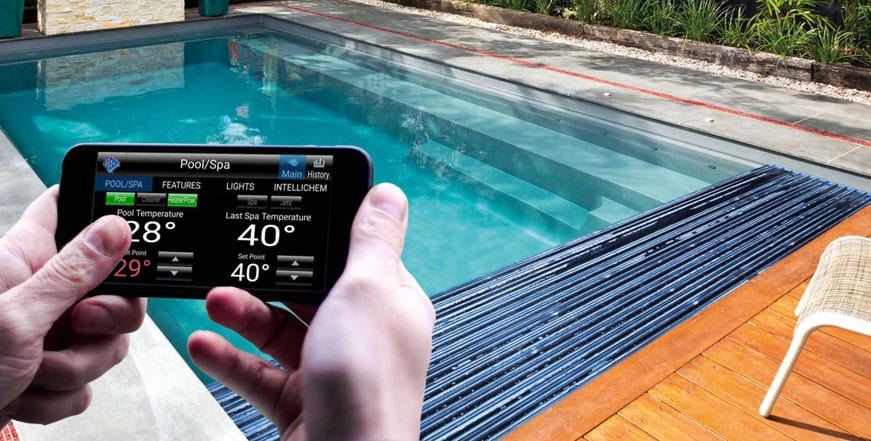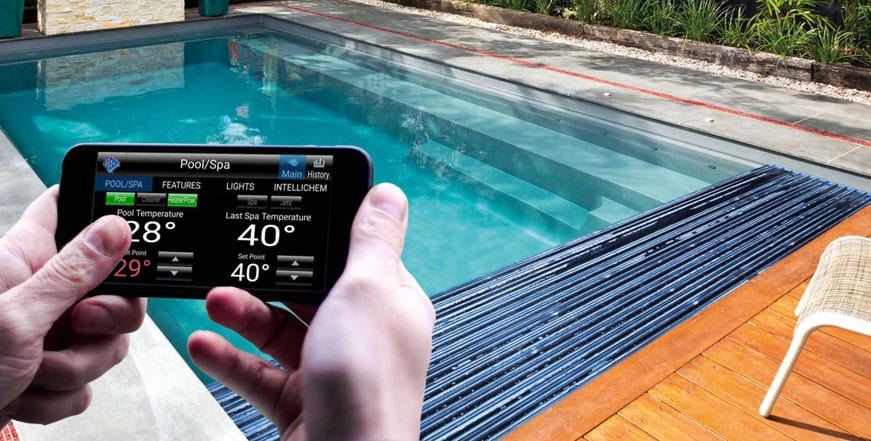 Image via Premier Pools and Spas
Want to control the temperature, lighting, and chlorine balance of your pool from your phone? With swimming pool automation, you can. Pool automation systems can integrate with your current pool equipment, and grant you instant control over the different functions of your pool.
That's all of the backyard inground pool ideas we've got for now!
If you liked this post, you might also like:
11 Simple Pool Landscaping Ideas
7 Ways To Lower Swimming Pool Bills By Up To 50%
7 Things Every Florida Pool Owner Should Know In 2021